While Google's Android platform has taken a sharp upswing in popularity during the last six months, the iPhone remains tops in terms of customer loyalty, according to the most recent U.S. smartphone numbers from research firm The Nielsen Company.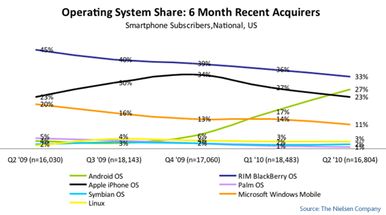 The numbers, which cover the second quarter of 2010, show the Apple iOS holding a 28 percent share of the smartphone market, in second place after BlackBerry-maker RIM, which has 35 percent. The Android OS has registered the biggest gain, jumping from 9 percent in the first quarter to 13 percent in the second quarter, putting it just shy of Microsoft's third-place 15 percent share.
Nielsen draws particular attention to the trends among new smartphone customers in the last six months. Android has outperformed the iPhone there, with 27 percent of customers choosing Google's platform over the 23 percent who purchased iPhones. While Apple's numbers appear to decline slightly among those purchasing a smartphone in the last six months, its marketshare appears to be holding steady from the first to second quarters. However, the numbers don't include iPhone 4 purchases, since Nielsen's fielding period is the first half of the month and Apple's latest smartphone went on sale June 24. Apple has since said that it sold 3 million iPhone 4s since the device's launch.
Despite the gain in Android phones, iPhone owners remain the most loyal to their device, with 89 percent pegging an iPhone as the next device they would buy. By comparison, 71 percent of Android owners said they would buy another, and just 42 percent of BlackBerry owners said a BlackBerry would be their next smartphone. The iPhone also led the charge in terms of the most desired smartphone: 21 percent of current Android users said they would jump ship to Apple's device, in addition to 29 percent of BlackBerry owners. Again, it's worth remembering that these numbers don't take into account the iPhone 4.
Nielsen's figures seem to agree with recent numbers from other research firms, such as a ChangeWave survey from earlier this month and an IDC report from May (IDC is owned by Macworld's parent company, IDG). All point to growth for Android and solid numbers for the iPhone.
Android's growth has likely been spurred on by marked improvements in the operating system as well as a flurry of high-profile devices such as the Motorola Droid, HTC Droid Incredible, and Motorola Droid X. However, with the iPhone 4 launching only towards the end of the second quarter, the resolution to that cliffhanger ending won't be seen until we get an eye on next quarter's figures.