3D technology has been experiencing a sort of renaissance lately, thanks to 3D blockbusters like Avatar, and 3D television sets entering the consumer market. Now, 3D is coming to your iPhone—sans fancy glasses—thanks to Florida-based developer Kode80 and its HoloToy app.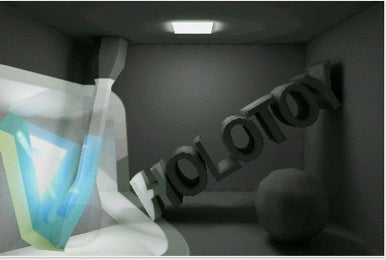 This clever app uses the iPhone's accelerometer to manipulate 3D images according to your angle of perception, resulting in a three-dimensional effect. Recently updated, the app can now use the iPhone 4's front facing camera to track your head motions, adding a new layer of realism to its 3D images.
HoloToy achieves its unique 3D effect by distorting the scenes it displays in a way our brains would expect, based on our current viewing angle. The result is similar to one of those black-and-green 3D holograms that were ever so popular in the '90s.
The app originally relied exclusively on the iPhone's accelerometer to determine the viewing angle of its images, but its latest update now uses the iPhone 4's front camera to track your head and determine the appropriate viewing angle. This allows you to literally look around the 3D scene by moving your head. From what we can tell by the developer's YouTube video embedded below, the effect is compelling.
HoloToy includes 13 interactive 3D Holograms, including four games. You can also create your own 3D pics with a function called My HoloPics; its built-in depth and transparency editor lets you create your own 3D scenes and store them in your own 3D photo gallery.
HoloToy costs $1 and runs on iOS 3, though to take advantage of the head tracking feature, you'll need an iPhone 4 with iOS 4.
Read more…