Editor's note: The following review is part of Macworld's GemFest 2010 series. Every day from mid July through August, the Macworld staff will use the Mac Gems blog to briefly cover a favorite free or low-cost program. Visit the Mac Gems homepage for a list of past Mac Gems.
We've covered a number of products that aim to help you be more productive by blocking you from doing things that might sidetrack you ( Freedom and SelfControl), visually blocking all but the current program ( Think), and removing distractions while writing ( WriteRoom). Pariahware's Shoo Apps takes a gentler approach by simply hiding apps that haven't been used in a while.
Shoo Apps' straightforward settings window lets you choose a general "hide after" time that applies, by default, to all programs. Any program that hasn't been used in this amount of time—say, two minutes, is hidden using Mac OS X's standard Hide command. But each running program also appears separately in Shoo Apps, letting you set program-specific times. For example, I never want BBEdit to hide unless I manually hide it, so I have Shoo Apps configured to Never Hide BBEdit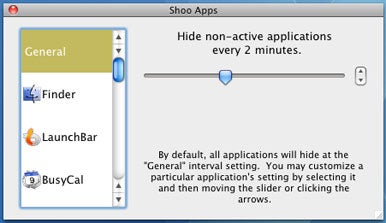 The longest time setting is only five minutes—I'd like the capability to choose longer periods for programs that I may not actively be using but I want to remain visible. The only alternative in Shoo Apps is to set a program to never auto-hide, which isn't always what I want, either. Also, changing the General time doesn't automatically change the default setting for other running programs—if you want those programs to reflect your new default, you need to change each individually, which is a bit of a hassle.
Still, in testing Shoo Apps I was surprised by how much I liked having it automatically hide the many apps I want to keep running but don't need to see all the time.
Want to stay up to date with the latest Gems? Sign up for the Mac Gems newsletter for a weekly e-mail summary of Gems reviews sent directly to your Inbox.
Our 186-page Mac Gems Superguide is a veritable greatest hits of Mac Gems. It's available as a PDF download, PDF on CD-ROM, or as a printed book. Learn more about the Mac Gems Superguide.
[Dan Frakes is a Macworld senior editor.]