Sports Illustrated is a titan in the world of sports publishing. Known equally as well for its stunning photography as its reporting, SI's launch of an iPad-friendly digital version of its sports weekly was highly anticipated on a platform that can showcase both pictures and words.
Sports Illustrated Magazine from Time does a good job of recreating the magazine experience, but it comes with a cost that may make long-time readers cry foul.
Let's address that price first: while free to download, the app will cost you $4.99 to buy an issue of the digital magazine. That's $4.99 each week. There is no subscription rate for the iPad, and current print subscribers don't get any special deal. The lack of a subscription option doesn't sound like it's Time's fault— Apple reportedly rejected the Sports Illustrated app because it originally offered users the ability to subscribe rather than buy each issue each week. Still, as it stands, a year of SI on the iPad will cost you more than $250; you can subscribe to the print edition for about $40. Ouch.
If you can get past the sticker shock, the experience of reading Sports Illustrated on the iPad is very pleasant. The app is laid out just like the magazine, so if you're already familiar with the print version, you can simply launch the app and start swiping through pages.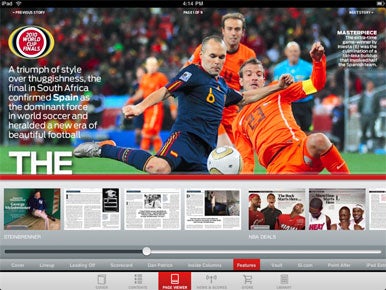 But this is more than just a digital version of the print product. A number of the stories have photos and video that accompany them. Tapping on these sections will launch additional photo albums (some of them exclusive to the iPad) and videos (which require an Internet connection). SI is world-renowned for its sports photography, and being able to view those photos on the iPad's big, vibrant screen is a treat for a sports fan.
Beyond the multimedia options, one of the nice advantages about reading magazines on the iPad is the ability to jump directly to the story you'd like to read. When you simply tap on the screen while reading a story, a menu bar slides up on the bottom of the screen, giving you access to a page viewer. From here you can scroll through the magazine section by section, or slide your finger along the bottom bar to quickly scrub through the issue. You also enter the app's Store and Library from the menu bar, where you can buy new issues or look at ones you've previously bought.
Sports Illustrated Magazine makes heavy use of an in-app browser which pops up when you tap on certain links in stories, or when you access "The Wheel"—a circular pop-up menu that appears when you tap and hold on a page. The Wheel gives you access to additional stats, sharing features, and related photos and articles (when available).
The magazine's in-app browser offers no navigation features, so while it works if you simply want want to view a static Web page, you quickly get lost and have to close out of it if you follow any links within the browser window.
It's very early on in the lives of digital magazines on the iPad. Sports Illustrated suffers from some minor technical areas that are sure to be improved upon, and some larger philosophical ones that are sure to shake out in the not too distant future. For now, if you're a casual SI reader who occasionally picks up the print magazine when there's something interesting you want to read, it's well worth it to give the magazine a look on the iPad. If you're a week-in, week-out SI die-hard, buying the weekly iPad edition will likely be cost-prohibitive, until Apple and publishers can reach some accord.
[Macworld contributor Beau Colburn lives in Boston, and grew up with old Sports Illustrated taped to his bedroom wall.]