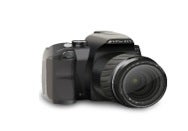 Apple has posted yet another Digital Camera Raw Compatibility software update as it continues to increase its support for the RAW format in Aperture 3 and iPhoto '09.
Version 3.3 is a minor update that extends RAW image format compatibility to Aperture 3 and iPhoto '09 for eight new cameras: Canon PowerShot SX1 IS, Olympus E-PL1, Panasonic Lumix DMC-G2, Panasonic Lumix DMC-G10, Samsung NX10, Sony Alpha DSLR-A390, Sony Alpha NEX-3, and Sony Alpha NEX-5. Most of the models are compact interchangeable-lens cameras.
The 5.7 MB update is available for download from Apple's support site and can also be downloaded through the Software Update system preference. It requires Mac OS X 10.5.8 or 10.6.2 or later.