Google Reader has become the dominant force of newsreading apps and services, as most desktop and iPhone feed readers now depend on it for management and syncing features. But Ashes, a new iPad app, has rejected the status quo by integrating with Fever, a Web-based, self-hosted feed reader from independent developer Shaun Inman.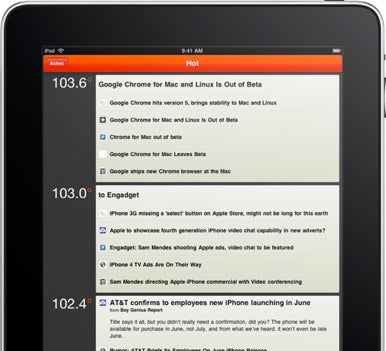 Before we get much farther, though, you should know that Fever is primarily built for power users. It costs $30 and, in order to set it up, requires you to have your own Web hosting, your own domain, and some basic HTML/PHP chops. If you're looking for a free, Web-based alternative to Google Reader, Fever probably isn't it.
Disclaimer aside, Ashes brings Fever to the iPad, including one of the newsreader's most significant features for news junkies: a Hot list that watches for trending links and topics among all your feeds, then groups and ranks news items based on the popularity (or temperature, if you will) of the topic. Fever's Hot list is like your own personal Digg—sans vile comments—that focuses on only the news and Websites that you care about. You can even change the time period of the Hot list to focus on, say, popular links from yesterday, last week, or the past month.
Ashes lets you sync your Fever news items, feeds, and groups to the iPad, stay on top of trending topics in the Hot list, and do it all offline—something that Fever's own Web-based nature doesn't really allow. It features an in-app browser and the ability to e-mail articles or save them to Instapaper for reading later.
Ashes is available now for $7 in the App Store, and it requires iOS 3.2 or later.