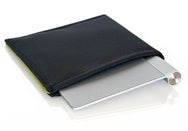 I hope you don't expect the Magic Trackpad to stay cooped up at home all the time, because WaterField Designs certainly doesn't. On Tuesday, the accessory manufacturer announced two cases that let you bring Apple's new mouse replacement on-the-go.
The Trackpad Socket is a slim black slip-in case made of "soft, scratch-free material." It should keep your Magic Trackpad safe from car keys, pens, and any other objects in your bag that may be hazardous to the glass and aluminum that's all the rage at Cupertino right now.
WaterField Designs's Trackpad Slip bumps the Magic Trackpad case scene up a notch. It uses ballistic nylon, a lightly padded liner, and your choice of six trim colors that announce to the world: this is my Magic Trackpad case, hear me roar.
The Trackpad Socket goes for $12, and the ballistic, stylish Slip will set you back $25. Both ship for just $2 via USPS First Class Mail, so if you plan to travel with your Magic Trackpad, you probably can't go wrong with at least some basic protection.