Uface from app developer Blank lets anyone create their own custom avatar for social media sites without the need for any drawing skills. It's a fun addition to the iPhone and iPod touch.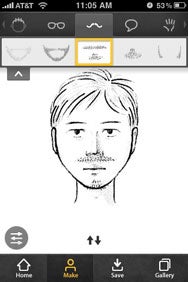 To start, you select your gender and then mix and match other facial features to get the look you want. There are hundreds of different eyes, noses, hairdos, lips, glasses, beards, eyebrows, and more to choose from. You also have your pick of several hand gestures, hats, chat bubbles, and backgrounds to make your character even more distinct. You do all this sketching on your choice of seven types of virtual paper—notebook, canvas, plain white, or yellow, to name a few.
With all the different options, you're sure to be able to create an avatar that resembles you or a friend. The faces created with Uface have a pencil-sketched appearance that I find to be really cool-looking.
Uface sports a very slick interface that makes using the app a breeze. Two menu bars across the top of the screen slide left or right to reveal different choices. The top bar displays different categories like eyes, noses, and so on, while the second bar displays all the choices within that selected category. You can swipe the screen left or right to scroll through all the facial features to see what they look like on your avatar.
Once you've perfected your avatar, you can save it to the gallery. From the gallery, you can assign a face to a contact on your device, save the image to your photo library, or upload it to Facebook or Twitter.
Uface makes it easy to make all sorts of crazy faces to use as contact pictures, social media avatars, or just pictures to share with your friends. Updates to the app add new items and styles, keeping things fresh.
[Tim Mercer is a technology enthusiast, graphic designer, and blogger, whose blog, digital-artist-toolbox.com, offers free resources to the digital artist and graphic designer.]