Editor's note: The following review is part of Macworld's GemFest 2010 series. Every day from mid July through August, the Macworld staff will use the Mac Gems blog to briefly cover a favorite free or low-cost program.
Eon is an iCal program that runs in the background on your Mac. You can access it using a Finder menu or a hotkey. The app will dim your Mac to show only calendar and task items. The app also provides several "skin" widgets that make the calendar look a bit more appealing.
To add and event or task, you can either use iCal like you normally would, or you can use Eon menu in the Finder to add them, which provides a quick way to manage your schedule and task list. The app also has undo and redo options (say, to undo a new task you did not mean to add), and there is a skins store built-in to the app. When you use the store, another panel appears where you can download any of the new widgets (which are really skins for your calendar) for free.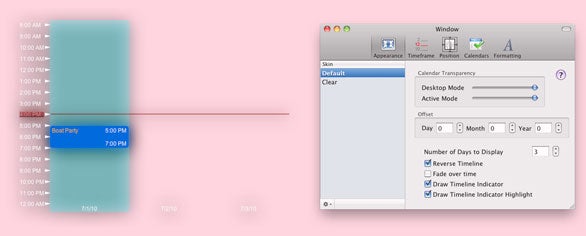 In daily use, Eon is a great alley in the fight to stay on task and adhere to a schedule. It's a low cost tool designed for fingertip access, and it's also handy because it hides all other apps from view. You can customize the background color, too – choosing, say a bright red color to jolt you to productivity.
The app does not have any extra features for notetaking or e-mailing tasks. It is not a project manager by any means, but just provides another way to manage your iCal schedule and tasks.