At a Glance
Expert's Rating
Pros
Works with over 25 blogging platforms.
Offers many standard word processing features.
Easy to add images and other media using drag and drop in both rich text and HTML editing mode.
Cons
No Tumblr support.
Limited image editing tools.
Can't create image captions outside of HTML mode.
Our Verdict
IllumineX's ecto 3.0.2 is a word processing application for your blog that provides a number of tools to make your blogging experience work well and feel like you're creating a document in your favorite word processing application.
Why use software to create blog posts when you can do the same thing using your blogging application's built-in editing tools? In most cases, compared to a word processor, Web-based blogging platforms have limited formatting capabilities or require you to have some kind of HTML experience in order perfect your posts. Furthermore, in order to create a post, you need to have access to the Internet. Ecto, in contrast, allows you to create, edit, format, and perfect your posts without the limitations of Web-based editing.
Ecto supports more than 25 blogging platforms, both popular and unknown, including TypePad ( ), WordPress ( ), Blogger, and LivePress. Although, somewhat surprisingly, it does not support the popular Tumblr ( ).
Ecto makes simple work of connecting to your existing blogging service. You provide a user ID, password, and specify your blogging platform and within a matter of minutes you're editing your first blog post. When you connect to your blog, ecto downloads your 20 most recent posts as well as all the tags and post categories you've created. Your recent posts are displayed in a list and any of them can be opened or edited with a double-click.
By default, ecto assumes that you want to create or edit your posts using rich text mode, which means that ecto will work just like any word processor. Common keyboard commands, such as command-b or command-i will bold or italicize text, and you also have the ability to change text alignment or create ordered lists with the click of a button. It's also quite easy to add images or other media. Ecto ships with excellent tools for helping you create links to images stored in your Flickr account. If you have an Amazon merchant ID that lets you link to items on Amazon in order to receive a commission, ecto can automatically create links to the items you want to sell. Ecto also uses a media browser similar to the ones in Pages ( ) or Keynote ( ), with which you can drag and drop media from your iTunes, iPhoto, and Aperture libraries into the body of your text.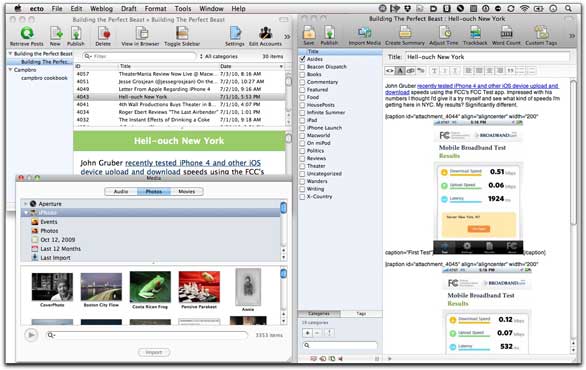 Ecto has some limitations once media is added to your posts, however. First, double-clicking on an image doesn't open your image editing application; instead it opens a tool you can use to set the margins and padding around your image. So you need to make sure that the images you insert into your post are already edited the way that you want them. There were also several complaints on the MacUpdate and VersionTracker Web sites stating that ecto was deleting or otherwise corrupting blog posts. I can't confirm or deny that this, as I had no such trouble, but caveat emptor—meaning make sure to back up your material before you use this application.
Second, I could find no way to create or edit image captions or align images using the program's rich text interface, although you'll have no problem with this if you know how to edit HTML.
If rich text editing isn't your bag you can also use ecto to edit your blog posts with HTML. While this does require some technical expertise, even in HTML mode, ecto offers you several options for easing the process of adding images or other media. So, you can easily drag and drop images from your media library into your HTML text and ecto will create the HTML for your images.
Macworld's buying advice
Ecto 3.0.2 is an great blog editing application and one that in many ways is more convenient than the Web-interface for your blog. While the program's missing Tumblr support is a disappointment, it's not an uncommon problem—only Blogo and MarsEdit handle Tumblr well—and with more than 25 blogging platforms to choose from, ecto is likely to support the platform that you're using.
[Jeffery Battersby is an IT Consultant, (very) smalltime actor, and regular contributor to Macworld. He writes about Macs and more at his blog.]