It's easy to spend more than you have in the age of the credit card, but fortunately there's a slew of iPhone apps to help us manage our finances. Toshl, the latest entry into this field, bills itself as an expense tracker with a twist, letting you enter your expenses into your iPhone and view, analyze, and export your spending data on your home computer.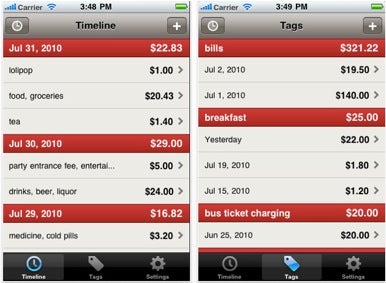 The Toshl app organizes your purchases based on tags that you create, rather than pre-defined categories, making it flexible enough for most purposes. Adding a typical expense requires minimal effort: just enter the price, tap one of your existing tags, tap Save, and you're done.
The app lets you view your financial past with a timeline view that lists your daily and monthly expenses in chronological order, but the real fun begins when you get on your home computer.
Toshl offers a free Web service, Toshl.com, that syncs with the app and helps you analyze and visualize your spending history. You can compare different types of expenses, see how they change over time, and create colorful graphs that help illustrate your spending history. Toshl.com will also back up your expense data on a secure server, so you'll always have access to your expense history, even if you lose your iPhone. Toshl.com also lets you export your expense history as a comma-separated values (CSV) file, which you can import into most spreadsheets and many other financial programs.
The Toshl iPhone app and standard Toshl.com account are both free, but the company also offers a Toshl Pro subscription that, for $20 per year, enables more advanced graphs and an expense search option, as well as more file formats for export. The Toshl Pro account will also let you send automated expense reports each month to your e-mail.
The Toshl app runs on iOS 3.1 or later.