If you haven't yet used Safari 5's new extensions feature, we've covered the ins and outs. But which extensions are worth installing and which are better left alone? In the process of writing that article, I tested innumerable extensions from Apple's Safari Extensions Gallery, the Safari Extensions blog, and around the Web, and came up with a list of 25 that I found to be especially useful—or, in some cases, informative or entertaining. (I haven't included extensions that, while useful, do things you can approximate using Safari's own features.) Chances are you'll find more than a few that will make Safari a better browser for you.
1-Click Weather for Safari (via Extensions Gallery): Gives you a new toolbar button that, after entering your zip code in the extension's preferences, opens a new tab to the Weather.com weather page for your area. You could, of course, get similar functionality using a bookmark, but the toolbar button itself sports a live-updated badge displaying your local temperature.
A Cleaner YouTube : This extension automatically reformats YouTube pages to remove clutter. For example, the main YouTube page displays only the thumbnails for "most popular" videos, and individual video pages display only that page's video, playback controls, search box, and a channel toggle for viewing thumbnails of other videos in the same channel. (If you'd prefer YouTube always loaded the HTML5 version of its pages, check out the YouTube5 extension.)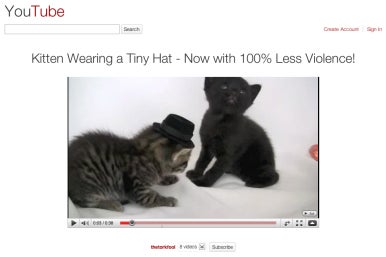 Autocomplete : One of the biggest annoyances of Safari's AutoFill feature is that it doesn't work on Websites—especially financial sites—that include code to prevent autocompletion of forms. If your computer is in a private location, such as your home, you can install this extension to force autocompletion to work even on these sites.
BetterSource : Safari's View Source feature (in the View menu) shows you the code behind the current Web page, but the plain text that pops up in a tiny new window isn't very easy to read. With BetterSource installed, you can view a page's source code—which automatically appears in a new Safari tab—with syntax coloring and line numbers. A nifty option can also show you the code for the actual page you're viewing, including any tweaks other Safari extensions have made to that code.
Coda Notes : One of the most interesting extensions I've seen, this one gives you annotation tools—pencil, highlighter, eraser, sticky notes—for marking up the currently displayed Web page. You can even edit the text of that page. When you're done, you can send your comments and edits via e-mail as a screenshot.
Google Reader Styles : This extension lets you customize the look of Google's online Google Reader by providing alternate themes—six as of this writing—that change the fonts, colors, and basic layout.
Google Search Cleanup : If you find Google's "new and improved" search-results layout to be cluttered and difficult to read, this extension tweaks results pages to remove the new options sidebar and any sponsored links.
Instapaper Beyond : I'm a huge fan of the Instapaper Web service. Instapaper Beyond adds full keyboard navigation and an on-demand Help display to the Instapaper Website.
InvisibleHand (via Extensions Gallery): Wondering where to find the cheapest price on a product? With InvisibleHand installed, when viewing a product on many retail Websites, you'll see a small orange bar across the top of the page telling you if the current price is the best one—or how much you can save by purchasing from another source. If multiple sites sell the item for less, a pop-up menu displays the price at each retailer, and you can even quickly view previews of Amazon.com reviews. (While the developer claims InvisibleHand works with "100 retailers in the U.S., UK, and Germany," you can't configure which online retailers it should search, so if you'd prefer not to see, say, eBay price comparisons, you're out luck.)
Linked Images : When viewing a page with lots of links to images, clicking on this extension's toolbar button replaces each link with the target image (or, if you prefer, replaces the current page with a new page that includes just those images). This one is great for viewing pages with many linked images, such as Reddit's I Took A Picture page.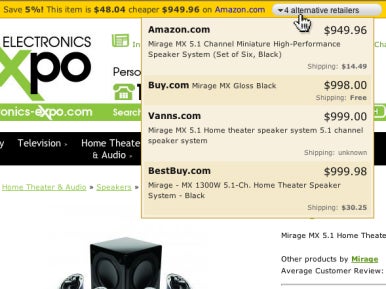 Mail Open Tabs : Creates a new e-mail message, in your preferred e-mail client, containing the URLs for all tabs in the current window or in all Safari windows. You can configure default values for the message subject and text, as well as default recipients. For example, I mainly use this extension to send URLs to myself, so I've entered my own address in the To field of the settings screen.
MeasureIt : Click the new MeasureIt button in the Safari toolbar and you get a nifty measuring tool that lets you find the exact dimensions (in pixels) of anything in the current Safari tab.
Netflix Queue Sorter : When browsing your Netflix Queue on the Netflix Website, this extension adds buttons for re-sorting the queue by title, length, rating, genre, availability, or Instant availability.
NoMoreiTunes : Do you hate clicking a URL, expecting to go to a Web page, only to see iTunes open—or, worse, launch when you don't want it running? This extension simply prevents iTunes URLs from launching or switching to iTunes, instead displaying the Web-based iTunes Preview page for the clicked URL. If you want to open the link in iTunes, you just click the View In iTunes button on the preview page.
Ostrich: Click the new Ostrich toolbar button to get a drop-down Twitter client, complete with tabs for your main timeline, @mentions, and favorites. You also get unread counts and the capability to compose a new message. The composition window even includes a button to insert the current tab's URL as a bit.ly-shortened link.
Reload Button : Many Safari users have lamented Apple's decision, starting with Safari 4, to remove the useful Reload toolbar button in favor of a tiny button inside the URL field. This extension, by Ars Technica and Macworld contributor John Siracusa, gives you back that familiar toolbar button. Thanks, John.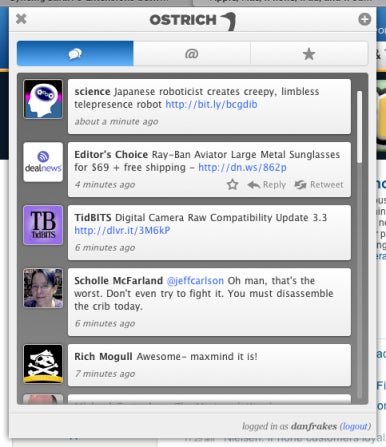 Safari Access Keys : Some Websites, including Wikipedia and Facebook, use a special HTML attribute to provide keyboard shortcuts for navigating pages. But how do you know what those shortcuts are? With this extension installed, whenever you view a Web page that includes keyboard shortcuts, you automatically see a new Safari toolbar listing those shortcuts. To use a keyboard shortcut, just press Control+Option+[key].
Sessions : Safari can restore all the windows and tabs open the last time you used the program, but as useful as that feature can be, it's quite limited. Sessions lets you save and restore sessions—groups of windows and tabs—at will. You can even search within sessions, delete particular windows from a session, and remove duplicate URLs with a click. My favorite feature, though, is that Sessions can automatically open whenever you launch Safari, letting you choose exactly which windows and tabs you want restored.
Short URL : Lets you quickly get an is.gd– or bit.ly-shortened URL for the current Web page by either clicking a toolbar button or pressing a keyboard shortcut. Written by Ars Technica's Clint Ecker, short URL uses a site's own shortened URL if available, and when using bit.ly, Short URL can use your personal bit.ly API.

Shortenz Linkz : Similar to Short URL, Shortenz Linkz provides a toolbar button for shortening URLs, but lets you choose from a longer list of URL-shortening services—12 at the time of this writing—and instead of a keyboard shortcut, offers a contextual menu command for shortening any link on a Web page. Shortenz Linkz also includes an option to tweet the resulting short URL.
Shut Up (via Extensions Gallery): Hate reading what other people have to say? Or just tired of inane comments posted to online articles? This extension blocks the comments section on many Websites. A click on its toolbar icon displays those comments if you really want to punish yourself.
SnapBack : If you miss the old Safari SnapBack feature, this extension adds a button to the Safari toolbar that attempts to emulate that feature.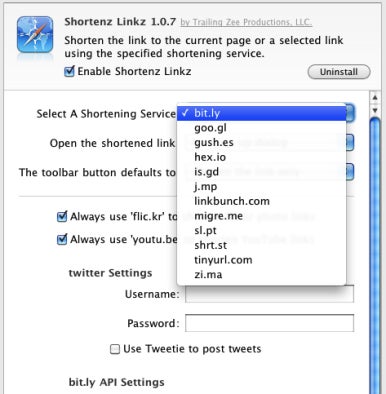 SuperDrag : Do you tend to open links in new tabs? If so, SuperDrag lets you perform this action—which normally requires a Command+click or accessing a contextual-menu command—with a simpler gesture: Just drag the link anywhere else on the page and release. The link's URL will open in a new tab in the foreground or the background, depending on your settings for the extension. SuperDrag is especially useful for trackpad users.
Tab Duplicator : This extension provides a contextual-menu command and an optional toolbar button for duplicating the current Safari tab. You can choose whether the duplicate opens in the foreground or background, as well as where on the tab bar it opens.
Youtube Wide : This useful add-on simply forces Safari to load the "widescreen" version of any YouTube page.
Lex Friedman contributed to this article.
[Dan Frakes is a senior editor at Macworld.]