At a Glance
Expert's Rating
Pros
Impressive overall speed
SD Card slot supports SDXC
Cons
Apple Remote not included
Glare and reflections from screen may frustrate some users
FireWire 400 peripherals require an adapter
Our Verdict
There's little doubt that 2010 is the year of the iPad and iPhone for Apple, with the company largely focusing on the new kids on the block. But the Mac isn't entirely out of the picture. While the Mac business is a more mature product line than Apple's mobile device lineup, it remains an important segment—both to Apple and the customers who use the Mac. And though the four new iMacs (two 21.5-inch models and two 27-inch models) released in July provide only small speed boosts, these latest desktops will make most customers very happy.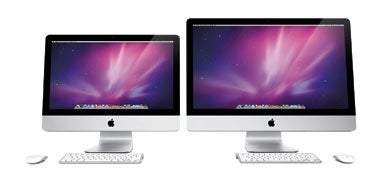 Standard equipment
The Intel Core 2 Duo processors found in the lower-end iMacs of the previous generation are gone. Apple now uses dual-core Intel Core i3 processors with 4MB of Level 3 cache in three of the new iMacs. The $1199 21.5-inch iMac has a 3.06GHz Core i3, while the $1499 21.5-inch iMac and the $1699 27-inch iMac both feature 3.2GHz Core i3 processors. The fourth iMac, a $1999 27-inch model, sports a 2.8GHz Core i5 quad-core processor with 8MB of level 3 cache.
The differences between the iMac processors go beyond the number of cores and clock speed, however—and it can be confusing. The 3.06GHz Core i3 processor in the $1199 iMac and the 3.2GHz Core i3 CPU in the $1499 and $1699 iMacs support Hyper Threading, which allows the processor to use virtual cores to better handle heavy workloads, but they don't support Turbo Boost, where the processor shuts down unused cores and boosts the speed of the active core. The quad-core 2.8GHz Core i5 in the $1999 iMac doesn't support Hyper Threading, but it does support Turbo Boost.
All of the iMacs come with 4GB of 1333MHz DDR3 SDRAM installed as a pair of 2GB SO-DIMMs. With a total of four memory slots, you can add more SDRAM without having to replace the memory that comes with the iMac. The iMacs support a maximum of 16GB of memory.
The iMacs use 7200-rpm hard drives; the $1199 iMac has a 500GB drive, while the other three models have 1TB hard drives. All four iMacs have 8X SuperDrives, and right next to the SuperDrive slot is a SD card slot, which has been upgraded to support SDXC, a new format that allows for SD card capacity over 32GB.
Apple includes its Wireless Keyboard ( ) and the Magic Mouse ( ) with the iMac, but if you order online from the Apple Store, you can switch the keyboard to a wired version with a numeric keypad and switch the mouse to an Apple Mouse ( ), both for no extra fee. You can also add Apple's new Magic Trackpad ( ) for $69.
The external ports haven't changed from the previous generation of iMacs. There's a headphone/optical digital audio output minijack, an audio line in/optical digital audio input minijack, four USB 2.0 ports, one FireWire 800 port, a Mini DisplayPort (with video-in support), and a Gigabit Ethernet port. The iMacs also come standard with Wi-Fi, Bluetooth, built-in speakers, and a built-in iSight camera.
New graphics, same displays
Besides the processors, the graphics cards are the other major change with the new iMacs. Integrated graphics processors that use a portion of main memory for video memory are no longer featured in any of the iMacs. All of the new models use ATI discrete graphics, which have dedicated video RAM.
The 3.06GHz Core i3 iMac has a 256MB Radeon HD 4670, which was used in the now-discontinued $1499 3.06GHz Intel Core 2 Duo iMac. The two new 3.2GHz iMacs have 512MB Radeon HD 5670 graphics, while the 2.8GHz Core i5 iMac uses a 1GB Radeon HD 5750.
As for the displays, they're the same 16:9 displays as those used in the previous iMac generation: LED-backlit TFT active-matrix LCDs that support in-plane switching and are capable of displaying millions of colors. The 21.5-inch display has a 1920-by-1080 native resolution, while the 27-inch display has a native resolution of 2560-by-1440. The viewing angle seems to be the same as the previous iMacs, which is good; there's no noticeable color shift when looking at an angle.
Some customers who bought a late 2009 iMac complained of yellow-tinted displays. To see if the new iMacs had similar problems, we used a yellow-tint test created by a reader at MacRumors. We weren't able to notice a tint or color shift with the week-old iMacs in our lab, nor did we notice anything wrong when we tested our older 27-inch 2.66GHz Core i5 iMac from late 2009. We also looked for light leakage on the iMac display, and in our testing, it was more noticeable on our 27-inch 2.8GHz Core i5—though it was only noticeable with a solid black desktop and not enough to affect everyday use for general users. We could barely notice any light leakage with the other new iMacs.
If you're still holding out hope for an iMac with a non-glossy screen, I hate to tell you this, but it's time to move on. The new iMacs all have a glass front, which creates a glossy effect with the screen. Apple seems to like this particular iMac design, and an anti-glare screen isn't in the company's plans. I've had different iMac models on my desk for quite some time now and I've adapted, but if you can't figure out how to cope with the glare and reflections, you'll have to consider another Mac model.
Customization options
As usual, when you buy from the Apple Store, you can customize your order. There are a few customization options available that are very interesting and ones you'll want to consider. (Macworld reviews and mouse rates only the standard configurations, but we will try to get a few built-to-order models, benchmark them, and post the results.)
For $200, the top-of-the-line iMac can be upgraded to a quad-core 2.93GHz Core i7 processor, which supports Hyper-Threading and Turbo Boost. Macworld has yet to see the new Core i7-equipped iMac, but we are working on getting one and testing it to see how much of a performance boost it provides. If it's anything like the boost provided in the previous Core i7 iMac, the extra $200 will be well worth it.
With the two 3.2GHz Core i3 (Hyper-Threading only) iMac models, you can upgrade the processor to a 3.6GHz Core i5 for $200. This dual-core Core i5 has both Hyper-Threading and Turbo Boost support.
The 27-inch iMacs now have the option for solid-state drives (SSD). You can opt to use a 256GB SSD instead of a hard drive for $600. What's more interesting is that the 27-inch iMac has a second storage bay, and Apple now lets you install a 1TB hard drive and a 256GB SSD for $750, or a 2TB hard drive and a 256GB SSD for $900.
SSDs offer a significant performance boost over hard drives, but over the long haul, SSDs can have problems with deleted files that cause performance degradation. Mac OS X lacks the TRIM support that can help fix this problem, so some SSDs have over-provisioning, which sets aside some of the SSD's capacity to replace bad blocks and for general maintenance and housekeeping tasks. We're not sure if the SSDs Apple uses have over-provisioning. If you do decide to go with a hard drive and SSD, consider installing the OS and applications on the SSD and storing your files to the hard drive.
Since Apple leaves two memory slots open, you might think about filling those slots with more memory. As for this writing, Crucial sells a pair of 2GB SO-DIMMs for $100, not including shipping. OWC sells a similar upgrade for $118 before shipping. However, if you upgrade to 8GB (four 2GB SO-DIMMs) from the 4GB standard when you buy an iMac from the Apple Store, you'll pay an additional $200. Adding memory to an iMac is an upgrade the user can easily perform, so you'll save a few dollars if you shop for third-party memory. Adding your own memory may affect the warranty, so check with the third-party if the warranty is of concern.
New iMacs (Late 2009) Speedmark 6 scores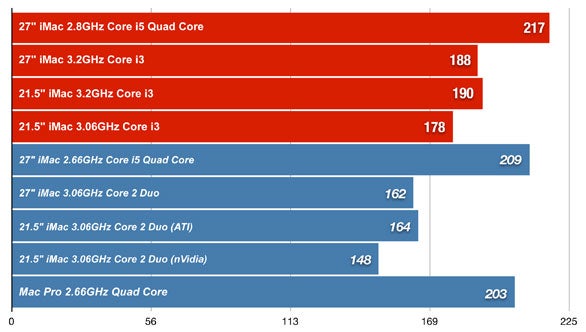 Macworld Lab tested the new iMacs to find out how well they perform overall using the Speedmark 6 benchmark suite. Overall, we saw moderate speed boosts over the previous generation of iMacs.
In our testing, the new $1199 21.5-inch 3.06GHz Core i3 iMac had the most dramatic improvement over its predecessor, a 21.5-inch 3.06GHz Core 2 Duo iMac; the new model showed an impressive 20 percent boost overall in Speedmark 6. The new $1199 iMac, with its dedicated ATI Radeon HD 4670 graphics processor, has its biggest performance gain in graphics performance, with a frame rate in our Call of Duty 4 test that was near four times that of the older 3.06GHz Core 2 Duo iMac, which uses an integrated nVidia GeForce 9400M graphics processor.
The two middle iMac models, a 21.5-inch $1499 model and a $1699 27-inch model with 3.2GHz Core i3 processors, had improvements that were more modest over their same-sized predecessors with 3.06GHz Core 2 Duo CPUs—the new iMacs have about a 16 percent improvement in their Speedmark 6 scores. The two 3.2GHz Core i3 iMacs had about a 7 percent improvement in Speedmark 6 over the new 3.06GHz Core i3 iMac.
During our testing, we had an odd slowdown in the HandBrake portion of our Speedmark 6 test suite. The $1199 iMac took nearly twice as long to rip a DVD chapter using HandBrake than on the other iMacs; we expected a slower time because of the slower processor, but not as much as we experienced. The $1199 iMac we tested came with a SuperDrive from Hitachi-LG DATA Storage (model HL DT ST DVDRW GA32N), and a HandBrake developer thought that perhaps this particular SuperDrive uses riplock, a feature that slows the optical mechanism during DVD playback to reduce the amount of audible noise. This would explain the slowdown during DVD ripping.
The new top-of-the-line iMac, a 27-inch quad-core 2.8GHz Core i5 iMac, is now the fastest standard configuration Mac we've tested, though its boost over its predecessor, a quad-core 2.66GHz Core i5 iMac, was small—just about 4 percent overall in its SpeedMark 6 overall test score. In individual application testing, the two iMacs showed very similar performance. We saw the biggest improvement in the new Quad-Core iMac in our Call of Duty 4 framerate tests, where the new model was 35 percent faster.
For more about our benchmark results, read our lab reports on the 3.06GHz Core i3 iMac, the 3.2GHz Core i3 iMacs, and the 2.88GHz Core i5 iMac.
New iMacs (Mid 2010) benchmarks
| | Speedmark 6 | Adobe Photoshop CS4 | Cinebench R10 | Mathemetica- Mark 7 | Compressor 3.0.4 | Aperture 2.1.4 | iMovie '09 | iMovie '09 | iTunes 9 | Call of Duty 4 | Finder | Parallels WorldBench 6 | Handbrake 0.9.3 | iPhoto '09 |
| --- | --- | --- | --- | --- | --- | --- | --- | --- | --- | --- | --- | --- | --- | --- |
| | OVERALL SCORE | SUITE | RENDER | SCORE | MPEG ENCODE | IMPORT | IMPORT ARCHIVE | EXPORT | MP3 ENCODE | FRAME RATE | UNZIP ARCHIVE | MULTI-TASK TEST | RIP DVD CHAPTER | IMPORT |
| 27-inch iMac 2.8GHz Core i5 Quad Core | 217 | 0:40 | 1:09 | 10.1 | 5:36 | 1:47 | 1:17 | 0:57 | 0:58 | 88.1 | 0:44 | 4:03 | 1:01 | 0:22 |
| 27-inch iMac 3.2GHz Core i3 | 188 | 0:42 | 1:37 | 6.2 | 6:58 | 1:59 | 1:42 | 1:05 | 0:59 | 81.4 | 0:44 | 4:45 | 1:37 | 0:27 |
| 21.5-inch iMac 3.2GHz Core i3 | 190 | 0:41 | 1:37 | 6.24 | 7:00 | 1:54 | 1:42 | 1:04 | 0:59 | 81.4 | 0:43 | 4:41 | 1:37 | 0:25 |
| 21.5-inch iMac 3.06GHz Core i3 | 178 | 0:41 | 1:42 | 6.01 | 7:13 | 1:57 | 1:44 | 1:05 | 1:01 | 81.3 | 0:44 | 4:51 | 3:27 | 0:28 |
| 27-inch iMac 2.66GHz Core i5 Quad Core | 209 | 0:39 | 1:12 | 9.64 | 5:44 | 1:50 | 1:22 | 1:03 | 1:07 | 86.9 | 0:43 | 5:07 | 1:22 | 0:26 |
| 27-inch iMac 3.06GHz Core 2 Duo | 162 | 0:42 | 2:15 | 4.28 | 8:16 | 2:34 | 2:17 | 1:16 | 1:16 | 66.2 | 0:39 | 4:45 | 2:23 | 0:32 |
| 21.5-inch iMac 3.06GHz Core 2 Duo (ATI Radeon HD 4670) | 164 | 0:41 | 2:15 | 4.42 | 8:06 | 2:32 | 2:16 | 1:18 | 1:16 | 69.1 | 0:43 | 5:20 | 2:20 | 0:32 |
| 21.5-inch iMac 3.06GHz Core 2 Duo (Nvidia GeForce 9400M) | 148 | 0:44 | 2:16 | 4.23 | 8:09 | 2:28 | 2:14 | 1:41 | 1:11 | 21.9 | 0:46 | 5:26 | 2:09 | 0:32 |
| Mac Pro 2.66GHz Quad Core | 203 | 0:38 | 1:00 | 11.13 | 6:17 | 1:36 | 1:09 | 1:18 | 1:10 | 49.3 | 0:44 | 4:27 | 1:15 | 0:27 |
Best results in bold. Reference systems in italics.
Macworld's buying advice
The iMac continues to be an attractive all-in-one computer for the family, home offices, and business. If you're looking for a new Mac or you're thinking about upgrading a desktop Mac that's at least a couple of years old, you'll be satisfied with the features and performance, as long as you're willing to deal with the glossy display. If you bought a late-2009 iMac, the reasons to upgrade aren't very compelling, unless you have the previous $1199 iMac with the integrated graphics and you want better graphics performance for games.
The $1199 iMac is a very attractive deal, especially now that it has a dedicated graphics processor. The new $1999 Quad-Core 2.8GHz Core i5 iMac is an impressive machine, outpacing the current (but soon to be replaced) Quad-Core 2.66GHz Mac Pro in many of our tests. The iMac doesn't have the expansion options as the Mac Pro, but if you need a very fast Mac right now, it's the machine to get. However, it's worth waiting for the new Mac Pros to arrive later this month; we'll have benchmarks and full reviews as soon as the Mac Pros are available.
[Roman Loyola is a Macworld senior editor.]