At a Glance
Expert's Rating
Pros
Java-based, cross-platform, blog posting and editing.
Free.
Can use offline.
Cons
Many interface quirks.
Inconsistent behavior when applying formatting to paragraphs.
No tumblr support.
Slow tech support.
Our Verdict
Qumana 3.2.4 is a free, multi-platform, Java-based blog editing application that can create and update content on a number of popular blogging platforms such as TypePad ( ), WordPress ( ), and Blogger, but like ecto ( ), Qumana currently offers no support for the popular Tumblr ( ).
The fact that Qumana is Java-based can be both a blessing and a curse. The obvious blessing is that Qumana works on various platforms, so if you're running Windows or Linux alongside your Mac, Qumana could prove convenient. But when it comes to user interface, Qumana can seem a bit dodgy. Windows often open with text or buttons covered and text editing buttons often span multiple lines in an inconsistent fashion.
So, for example, when you want to create a new blog entry, the editing window has the buttons for bulleted lists and numerical lists on two separate lines. Dragging the window to make it larger begins to move the buttons onto the same line, but it makes for a disorienting user experience.
You'll also find that some standard buttons don't work the way you'd expect. For example, if you open Qumana's preferences and try to close the window using the red close button—as you would with nearly every Mac application—the window will not close. Instead you have to click either the Cancel or OK buttons to close the window. Close all open Qumana windows and you'll find that there is no way to open a new editing window or the window containing your list of blogs. Instead, you have to close and relaunch the entire program.
As a blog editing tool Qumana works well enough, allowing you to add text, images, links, and ads using keyword-based AdGenta ads. You can also change fonts and formatting with relative ease with the program's formatting tools. For basic use, Qumana's text editing features worked as expected—that is, until I attempted to add blockquotes or make other changes to paragraph alignment. Then, instead of changing the text I selected, Qumana changed all the text from the beginning of my selection to the end of the text in my post.
There were two ways to work around this. Either fix the errant HTML tags via Qumana's built-in HTML editor or make sure to add blockquotes or other paragraph-oriented formatting as you work. Neither way is very practical.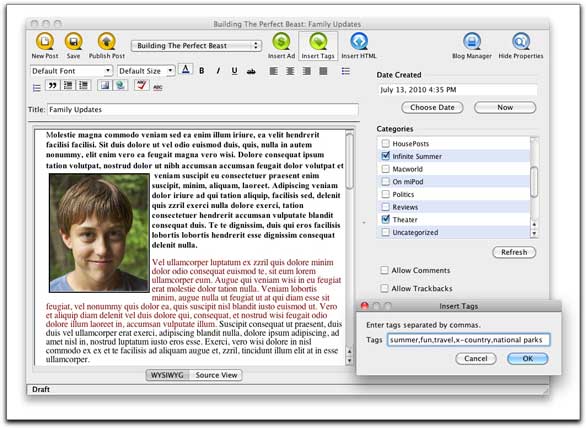 You can add images either by using the application's Add Image button or by dragging an image from the Finder to the location where you want it to appear in your new post. The end result is effectively the same. A new window opens giving you tools to adjust how the image will be aligned, what kind of border it has, and to add alternate text and a title. Like ecto and MarsEdit, Qumana does not support WordPress' image caption features.
One important note: I contacted Qumana Software using their support page regarding some of these issues and with other questions about the product. I've received no response, so you may want to keep this in mind when considering Qumana as a potential blog editing application.
Macworld's buying advice
Qumana 3.2.3 is a serviceable blog editing application that has the benefit of working on several operating systems. But as a standalone blog editor, you're likely to find other tools that work better and which offer a more consistent, functional, and Mac-like interface.
[ Jeffery Battersby is an IT Consultant, Apple Certified Trainer, (very) smalltime actor, and regular contributor to Macworld. He writes about Macs and more at his blog.]