The game may be called Uphill Rush 2, but you'll find the biggest "rush" is not on land, but instead flying through the air in this side-scrolling 2D racing game.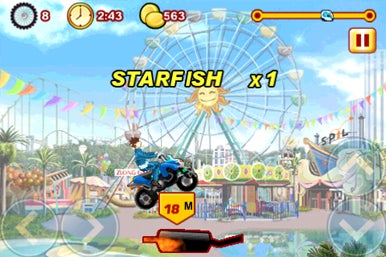 In Uphill Rush 2 by SPIL Games, you are a stuntman racing your way through a variety of courses in many different vehicles like cars, skateboards, and motorcycles. Up and down arrow buttons control your speed while left and right arrow buttons are used to control your pitch. These pitch controls are critical to master, because to survive the courses, you'll need to make sure you land wheels level or you'll crash and be sent back to the starting line or the last checkpoint. There is a time trial mode and race mode where you compete against an AI opponent. Completing each race unlocks more races and earns you money to purchase upgraded vehicles. You'll need these improved vehicles to remain competitive for the higher difficulty levels.
Don't expect state-of-the-art graphics, but do expect smooth frame rates and fast moving action through fluid side-scrolling environments. The physics aren't very realistic, but then again, neither are the courses. You'll find yourself jumping most of the time which is accomplished by a quick shake of your iPhone. It is unfortunate that the tilt controls weren't used to help control tilt of your vehicle as the buttons aren't terribly intuitive and take a little bit of practice. Since the courses provide some tough obstacles, you'll find yourself restarting many times over.
Uphill Rush 2 provides some challenging stunt driving thrills if you can get past the learning curve for the controls. If you're not sure, you can always try the lite version to get a sample of the gameplay.
Uphill Rush 2 is compatible with any iPhone, iPod touch, and iPad running the iPhone 3.0 software update or later.
[James Savage is the host of the RetroMacCast a weekly podcast devoted to older Macintosh computers.]