Despite some peoples' firmly held belief that one must own music rather than rent it, subscription music services such as Rhapsody and Napster continue to exist. We can now add one more—San Francisco-based Rdio (pronounced ar-dee-o).
Rdio—currently available in only the U.S. and Canada—comes in two flavors; the $5-a-month Rdio Web and $10-a-month Rdio Unlimited. The first lets you stream unlimited on-demand music via your computer's Web browser from Rdio's library of seven million some-odd tracks. The second offers this same Web service as well as access to the service via your supported mobile phone (all iOS devices running iOS 3.1.3 or later and Android devices work, as well as some BlackBerry models). Additionally, with the Rdio app you can download music from the service as part of the subscription and play it even when you're not connected to the Internet. You can also purchase and download unprotected MP3 tracks encoded at bit rates from 192kbps to 256kbps.
I participated in the beta and have since taken a second look now that the service has officially opened. Here's what I found:
On the Web
Visit Rdio.com, log into your account (you can sign up for a free three-day trial account and then extend it for an additional 10 days), and you're presented with your Dashboard—an area where you can view albums that are in heavy rotation, recent activity, top artists, and some statistics (the number of songs in your collection, the number of playlists you've created, the number of people you follow, and the number of people who follow you).
This "follow" business should hint that Rdio has taken a great big hint from Twitter and other social networking services. One of the biggest challenges for those joining music subscription services is music discovery. If you have the option to listen to virtually anything, how do you choose to spend your listening hours? Rdio's answer appears to be to follow people whose music tastes are sympathetic to yours. When you do, you can see what they've been listening to and have added to playlists. If you like what you see, follow them and try some of the music they like.
This social relationship is evident in a couple of places in the Web interface. At the top of your Dashboard page is a Heavy Rotation entry followed by You, Your Network, and Everyone options. Click You and you can review what you've listened to lately. Click Your Network and you see what those you follow have been listening to. And Everyone tells you what's currently popular on the service among all members. In a Recent Activity area you can see what the people you follow have been up to—the music they've added to their collections and the playlists they've created and updated, for example.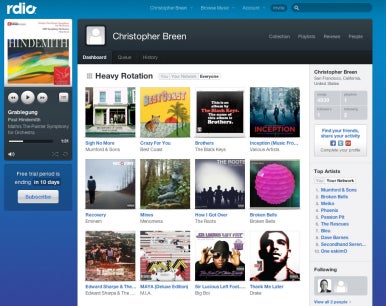 You can perform a variety of actions on the site including creating playlists of music you've found on the service, adding music to your "collection"—essentially your online library of tracks and albums—and syncing your local music library with Rdio's library. Executing this last option requires that you download the Rdio Desktop client (an Adobe AIR app). When you do, you can send a list of the contents of your iTunes library to Rdio. Those albums and tracks that are available on the service are then presented as part of your collection. This makes playing your music collection while on the go really convenient. Just find a browser (or whip out your iPhone, iPod touch, or iPad), log into your account, and there's your music, ready to play. The other advantage of providing a list of your iTunes content is that Rdio can then make recommendations based on what's in your library, much like iTunes' Genius feature.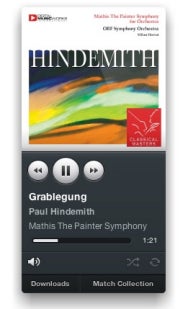 However, in my tests, Rdio picked up only a small portion of my music library—listing just 197 artists when I have hundreds more in my iTunes library. Also, it didn't reliably reflect all the albums I have by the artists it did present. For example, I have several albums by the artist, Bleu. Yet it showed just the single Redhead album and not the more recent A Watched Pot, even though I have that album in my iTunes library and it's part of Rdio's catalog.
Additionally, Rdio offers a Pandora-like service in which you can select an artist and then click an Artist Radio link. Do that and Rdio creates a 25-track playlist (you can choose to make the playlist longer) that contains music that seems to go well with that artist. Unlike with Pandora, you can view that playlist and add tracks in it to your collection, a playlist, or queue. (You can't delete tracks from the playlist, but it's easy enough to skip tracks you don't like by clicking a Next button.)
And yes, there's more. You can click on a track to see how many times it's been played, reviewed, added to collections and playlists, and the number of listeners who've tuned in. Select the Listeners tab and you can see who listened to the track. You can then click on that person's name and see what else he or she has been listening to. If you like what you see, follow the person. You can also write and post reviews of tracks and albums.
The Rdio app
If you sign up for the $10-a-month Unlimited subscription plan, you can both stream Rdio contents to your Internet-connected iOS device as well download tracks to the device. (Rhapsody offers a similar service with its Premier and Premier Plus subscriptions.) These tracks will play as long as you maintain your subscription.
The Rdio app is fairly bare-bones. Built for the iPhone and iPod touch (it works on the iPad as well, but not as a universal app) the app includes four buttons along the bottom of the display—Collection, Playlists, Search, and Sync. Tap Collection and you see the contents of your Rdio library—including both songs that can be streamed from the service as well as those tracks that you've downloaded to your device. Playlists lists any playlists you've created on the Web site (you can't create playlists in the app).
Tap Search and you can search Rdio for artists, albums, or songs. (Tap an artist and you have the option to play that artist's radio channel.) When you find something you like, you can add it to your collection or sync it to your device. Choose the latter and the music begins downloading. Regrettably, search results are very limited. For example, I searched for "David Bowie" and the Rdio app presented me with three top albums and three top songs, with no way to see all of Bowie's albums. This needs fixing.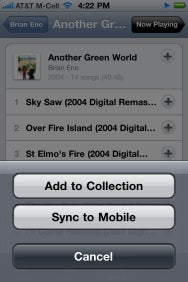 When you tap Sync you can wirelessly sync tracks you've designated for download to your device. Once these tracks have been downloaded you needn't be connected to the Internet to listen to them.
To listen to a track or album, just tap it in the app. A Now Playing screen appears that looks similar to Apple's iPod/Music app. When you tap a selection in an album, the album starts playing from that point—progressing through the succeeding tracks. To view the contents of an album or playlist, just tap the tracks list icon in the top-right corner of the display. When running under iOS 4, Rdio plays in the background when you switch apps.
Rdio doesn't allow you to play its content from multiple devices at the same time. For example, if you're playing something via the Web and then fire up the iOS app and play a track, the track on the Web will eventually stop playing, telling you that another device is accessing Rdio's service. In order to play tracks on the Web, you must stop playback on the iOS device.
Selection
As I mentioned, Rdio offers some seven million tracks (by comparison, the iTunes Store has more than 13 million tracks worldwide). And it offers more than just popular songs—I performed a few searches for classical and jazz works and while there's a reasonable representation of major works, the catalog isn't nearly as comprehensive as iTunes'. For example, searching for Herbert Von Karajan recordings of Beethoven's nine symphonies, Rdio offered just his EMI recording in a single collection, while the iTunes Store also listed his Deutsche Grammophon sets. Move away from the big name classical composers and things can get slim. For example, I searched for works by Paul Hindemith and found just seven entries. The iTunes Store had more than 400. Similarly, while Rdio had a reasonable collection of Bill Evans jazz albums, the iTunes Store had more.
Rdio suffers the same content gaps as other streaming services. No Beatles, Led Zeppelin, Frank Zappa, or King Crimson—artists who have chosen not to offer streaming access to their works. Also, like other streaming services that sell in addition to streaming music, some tracks are available only for purchase. Compared to Napster, Rdio appears to stream a greater percentage of available popular songs. But many of its classical tracks are available for purchase only. And, unlike with Rhapsody and Napster, Rdio's not yet offered on multi-room music devices such as Sonos and Squeezebox.
Performance
Rdio won't reveal the bit rate of its streamed tracks, but when pressed, the company did say that it was higher than the 64kbps streaming bit rate offered by Rhapsody. To my ears, it's quite listenable under casual conditions. But I can be forgiving of less-than-perfect audio, particularly when it's coming from speakers attached to my computer. Some of the classical pieces I listened to, however, didn't stand up to close scrutiny when played over a good set of speakers or headphones. A recording of Faure's Requiem, for example, had a warble to it that was easily detectable with a good set of headphones.
Similarly, Rdio wouldn't tell me the bit rate of tracks downloaded to iOS devices. After jailbreaking my iPad to look at the protected music files the Rdio app downloaded, however, it appeared, from file size, that the files were encoded at 128kbps.
The site isn't completely bullet-proof in these early days. A song I was playing stopped half-way through. I clicked Safari's Refresh button and received an operation error followed by a long list of arcane messages. I waited a minute or so, hit Refresh again, and I was back in business.
Potential
I've long held that music discovery is the magic bullet for subscription music services. Make it easy to find music you'll like and a service becomes a whole lot more compelling. Rdio, with its focus on social networking, is definitely on to something. If I could find a group of like-minded music geeks on the service, I expect I'd spend a fair amount of time using it.
But that requires that you have a large subscriber base, which remains a challenge. Pandora is starting to get people used to the idea that it's okay—and sometimes preferable—to listen to music you don't own. But Pandora is free. The trick is getting people to take the next step and pay for the flexibility and musical diversity a music subscription service provides. I'm a fan of such services. Perhaps if you spend three days living freely with Rdio and downloading a load of tracks to your iOS device you might become one too. If you like music more than just a little, it's worth your while to find out.