At a Glance
Expert's Rating
Pros
Reasonable price
Fun-to-use Art filters, such as Diorama mode
Small size
iAuto Mode
Built-in flash
Cons
Poorly-designed interface
Confusing menus beyond its basic settings
Sub-par LCD screen
Our Verdict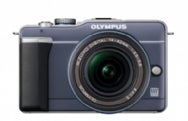 Sitting somewhere between a point-and-shoot and a DSLR, compact interchangeable-lens cameras offer substantially lower bulk and weight than a DSLR, but more features than a pocket camera.
The third Olympus camera to enter this category is the 12.3-megapixel Olympus PEN E-PL1. Priced closer to a high-end point-and-shoot than a low-end DSLR ($600 a time of review), the E-PL1 has a street price that's more expensive than a point-and-shoot, but lower than a DSLR. It is a good option for the shooter who doesn't want to commit to the bulk of a DSLR, yet doesn't want to compromise too much on quality and features.
Smaller, lighter, more plastic-y
Micro Four Thirds cameras are small by nature, because they don't have the mirror and prism required by an SLR camera. With a size and shape that's too big to slip into a pocket, at only three-quarters of a pound, you can easily carry the E-PL1 on your shoulder all day without strain. If you've been considering a larger point-and-shoot, such as the Canon Powershot G11, then you might want to take a look at the E-PL1.
Compared to a point-and-shoot, the E-PL1 scores with its larger image sensor, (which yields decent image quality in low light) removable lenses, raw support, and full manual modes. The E-PL1 is a little narrower than Olympus' E-P1 and E-P2 Micro Four Thirds cameras, though not by much. The right side hand-grip provides a sturdy grip, and controls are easily accessed with your right-hand thumb and forefinger.
Olympus has found a number of ways to reduce the price of the E-PL1 from the high $1,000 price tag of the E-P2. It has fewer buttons, no control dials, a less sophisticated sensor stabilizer, a smaller LCD screen and slightly less robust construction. Overall, it's got a good feel and a nice heft, though it does feel a little more plastic-like than its more expensive siblings. Further reducing cost is the Olympus 14-42mm f3.5/5.6mm zoom lens, which comes bundled with the camera. While offering the same optical quality as the previous 14-42 lens, the E-PL1's lens has a plastic mount. While this won't make any functional difference, the plastic mount is, theoretically, more prone to breaking, so if you're rough on gear, than you'll need to be careful with this lens.
Modes and features
Like the E-P2, the E-PL1 provides all of the features that a serious shooter expects: priority and manual modes, raw format, and more. But the E-PL1 also adds special features for novice shooters.
The camera's Mode dial includes a special iAuto mode that allows you to take creative control without having to understand the specifics of exposure theory. For example, if you're shooting a portrait and want to blur out the background, you can press the Start button on the back of the camera to enter the iAuto mode. From here, you'll see a simple menu with options like Blur Background, Change Brightness, Express Motions, and more. Choose Blur Background and then scroll from Blur to Sharp to soften or sharpen the background.
What's really going on here is that you're selecting an aperture, but for those still learning or who can never remember if f3.5 yields a blurrier background than f11, iAuto mode is much simpler. Similarly, Express Motions provides a slider that ranges from Stop Motion to Blurred Motion in place of explicit shutter speed control. Change Brightness puts a friendly front-end on exposure compensation, while Change Color Image lets you alter white balance, to make an image warmer or cooler. Each mode also includes special help screens with photo examples and tips for getting the best results.
If you're new to manual camera controls, the E-PL1's iAuto mode is an excellent training tool. Like most point-and-shoots, and many lower-end SLRs, the E-PL1 also includes scene modes—pre-programmed modes intended for shooting specific situations. Nineteen scene modes are included, including Portrait, Landscape, Beach and Snow, Fireworks, Panorama, Documents, and Macro.
In-Camera editing
While Scene Modes alter exposure settings in situation-specific ways, the camera's Art filters apply post-processing effects to create final results that normally require work in an image editor. Art mode is selected from the mode dial, so you can't combine it with scene, or other shooting modes. Effects include the usual Sepia, and high saturation modes, but Olympus has also thrown in Grainy Film, and a Diorama mode which makes large vistas look like small toys (mimicking the effect of using a tilt-shift lens to shorten depth of field). Of course, as a Micro Four Thirds camera, the E-PL1 sports removable lenses, giving you the option to choose precisely the focal range that you want. Olympus currently offers lenses from 14-200mm, but the E-PL1 will also work with Panasonic Micro Four Thirds lenses, and can be adapted to use many other lens types.
Finally, the E-PL1 includes a pop-up flash. This is a welcome addition for casual shooters who don't want to carry a separate flash. Olympus offers an optional electronic viewfinder, which clips onto the camera's hot shoe and provides a more SLR-like shooting experience. For shooting in bright light, this can be essential, as the LCD screen can easily be obscured in bright daylight. Ironically, while the camera's built-in LCD is sub par, the electronic viewfinder is excellent. Big, bright, clear, and sharp, it's an ideal add-on to the camera.
Shooting and interface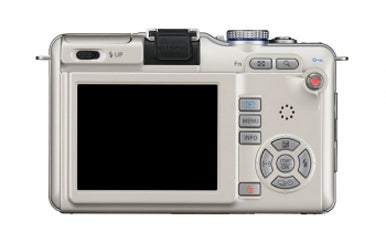 Like all compact interchangeable lens cameras, the E-PL1 is a "live view only" camera. There is no optical viewfinder. If you're used to shooting with an SLR, it can be a bit of an adjustment.
Olympus has still not upgraded its LCD screen from the E-P1. Exhibiting annoying aliasing, and a visible grid pattern, the E-PL1's viewfinder is hardly state-of-the-art, and is a big disappointment, not only because of the price of the camera, but because it can be distracting while shooting.
For the most part, the camera provides single-button access to the features that you will need for everyday shooting. Exposure compensation, flash mode, auto-focus point selection, burst/self timer are all there, but ISO is not. However, dipping into the menu system for a quick ISO change isn't painful.
Unfortunately, much of the rest of the E-PL1's interface can be painful. Like the E-P1 and E-P2, the E-PL1's overall interface design is non-intuitive and sometimes outright mystifying. Controls that work one way on one day may not work at all the next, and figuring out why can require a lengthy perusal of the manual. While the camera will get easier to use with time, expect a lengthy learning curve.
As per its lower price point, the E-PL1 is missing some features that you get from the E-P2. Maximum shutter speed caps at 1/2000th of a second, with maximum ISO stopping at 6400, though neither of these will matter much for most shooting situations. There is no orientation sensor in the camera, so it can't automatically rotate images when you shoot in portrait orientation. When you import your images into your image editor, you'll have to rotate them by hand.
The camera can shoot 720P HD video with sound, but only offers a mono microphone built-in, and lacks an external mic jack. HDMI output is provided, and the camera's art filters work in video mode. It may take a while to process, but shooting video in Diorama mode is very entertaining.
Image Quality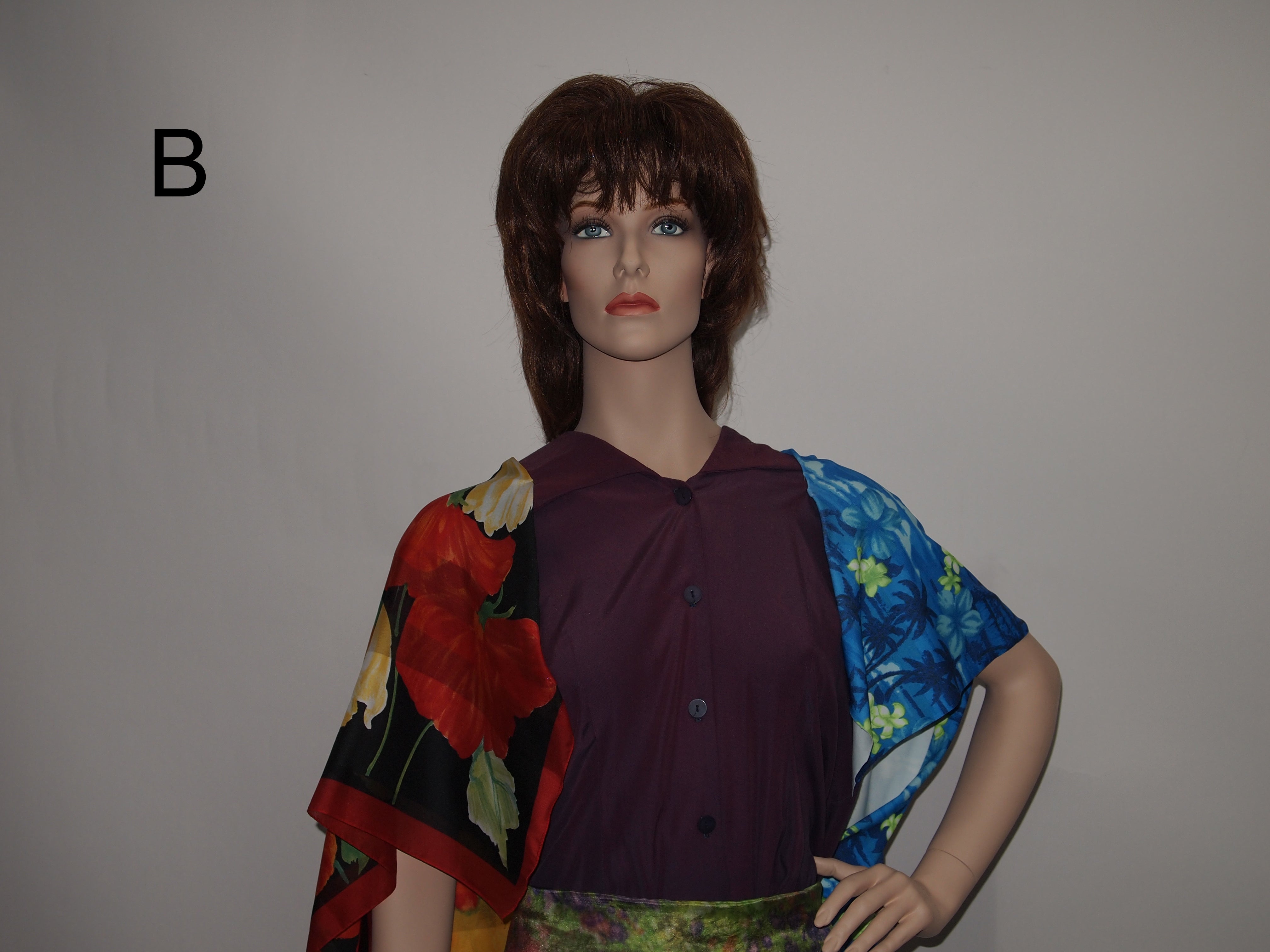 As with Olympus' other Micro Four Thirds offerings, the E-PL1 yields good images, with decent high ISO performance up to 1600. In the Macworld Lab's subjective image quality tests, the E-PL1 scored Good in the color test, Fair for exposure, and Very Good for sharpness.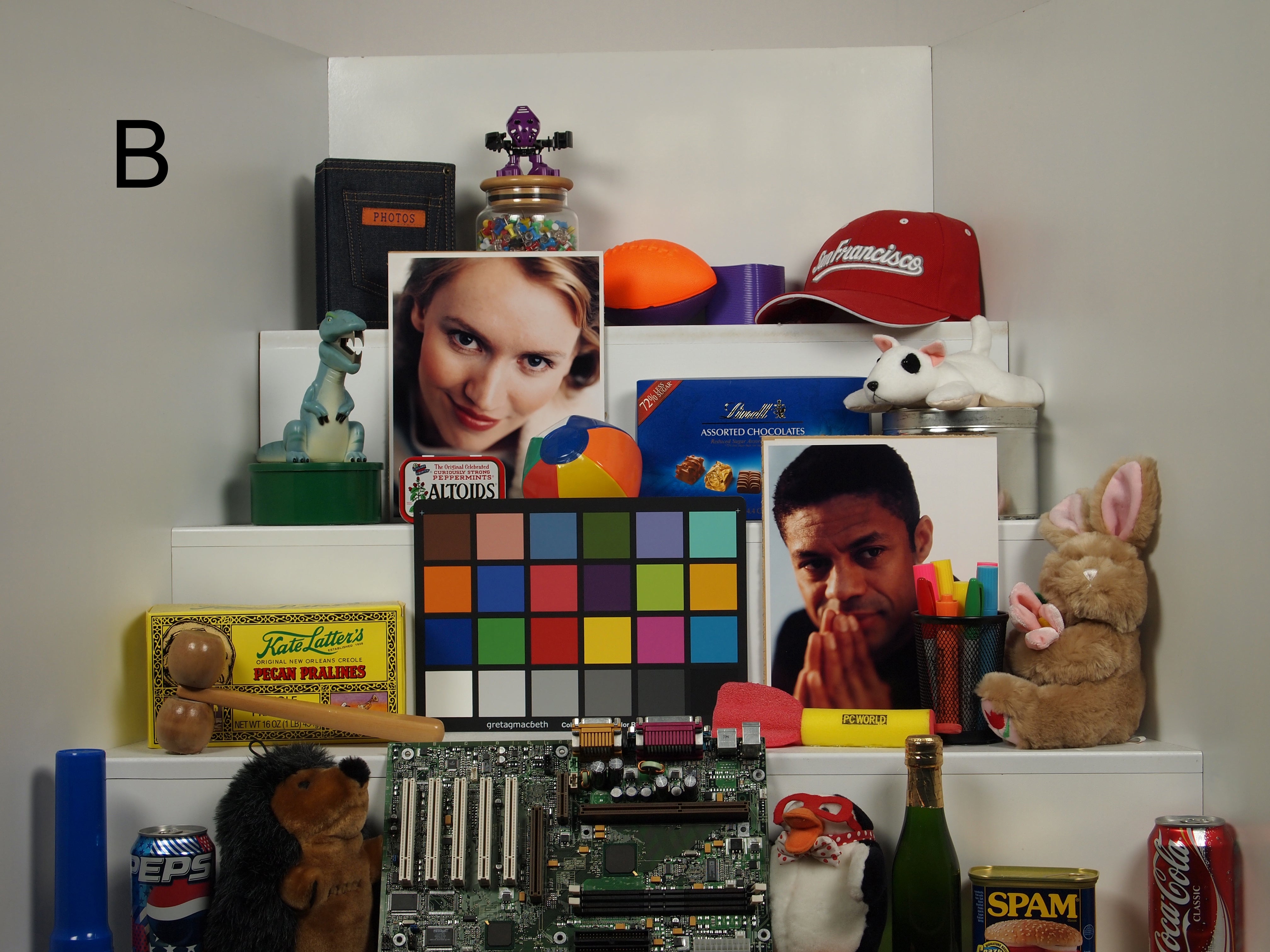 Its video quality was rated as Good. The E-P2 scored slightly higher than the E-PL1 in most categories and received a higher overall rating. Click on any of our lab's test images to view them at their original size.
Here are sample AVI clips that we shot in bright indoor lighting and in low light with the E-PL1. For the highest-quality clips, select 1080p from the drop-down menu in the lower-right corner of each player.
Macworld buying advice
Olympus is very smart to get a camera positioned at an in between price point, and the E-PL1 is a great choice for point-and-shooter users who want to move to a higher quality camera and begin experimenting with lens choice, raw shooting, manual controls, and working in low light. While the learning curve for the camera's interface can be steep, the iAuto modes make for an excellent learning tool. This is a camera you can grow with for some time.
[Macworld senior contributor Ben Long is the author of Complete Digital Photography, fifth edition (Charles River Media, 2009).]