Before the iPad, touch screen audio equipment was a luxury only affordable to professionals in the form of pricey, boutique equipment like the JazzMutant Lemur. Now, touch screen music production is within grasp of most consumers, thanks to the large number of apps that turn the iPad into a production tool. Among them, Loopseque, by Casual Underground Lab, which turns the iPad into a beat-making, dance-party machine.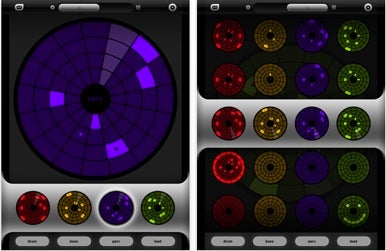 Loopseque features an attractive, 32-step circular drum sequencer and is packed with features to make putting together beats more fun than it already is. The app has three main views that you work with: the Wheel screen, the Wheel Matrix, and the Project screen.
The Wheel screen displays the main sequencing wheel that you use to edit and create beats. The sequencing wheel consists of four circles, each circle representing a sound that you pick from the library. When you play the sequencer, a line circles around the inside of the wheel, indicating which active segments are playing at the moment. With a little practice, you can arrange these active segments into music.
The Wheel Matrix displays all the wheels in your project and lets you quickly switch between them. The Project screen lets you select sample sets, change a project's tempo, and create, save, and load project.
Loopseque includes various sample sets that cater to most popular electronic music styles, including house, hip-hop, breaks, and more. With its relatively simple layout, you should be up and making dance floor bangers in no time.
Loopseque costs $5 and is compatible with iPad running iOS 3.2. Check out a video of the app in action below.
Read more…