Editor's Note: The following article is reprinted from Macworld UK. Visit Macworld UK's blog page for the latest Mac news from across the Atlantic.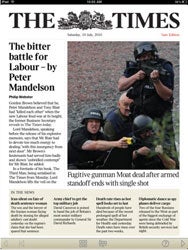 Rupert Murdoch, the Australian-born American media magnate and the founder, chairman, and chief executive officer of News Corporation, has called Apple's iPad "a perfect platform" for up-to-date news content.
Speaking at a media debate in Sydney, Australia this week, Murdoch said "tens of thousands of readers" enjoyed content from his newspapers including The Times and The Wall Street Journal via paid applications, such as those sold by Apple's App Store.
Thanks to a recently introduced paywall, it now costs a fee to read both The Times and its stablemate the Sunday Times online, which may draw some readers into buying iPad versions of Murdoch's flagship titles. The Times application costs $17 every 30 days and covers the Monday to Saturday editions of the newspaper.
Murdoch meanwhile, predicted impressive sales for Apple's tablet computer: "It looks like they will sell around 15 million iPads this calendar year, and more than 40 million by 2012. And the iPad is just one of many tablet or slate computers in the pipeline. News Corp fully intends to be across all those platforms too."
Murdoch added that subscriber levels for The Times Website has also been very positive: "It's going to be a success. Subscriber levels are strong. We are witnessing the start of a new business model for the internet. The argument that information wants to be free is only said by those who want it for free."