Apple's December 2009 acquisition of Lala, a music-streaming service, has fueled quite a lot of speculation over how the company plans to compete in the rapidly rising media-streaming space. On Wednesday, some users eager to begin streaming their iTunes music discovered an overlooked ability of Apple's iDisk app for iPhone, but it isn't quite Apple's foray into "iTunes in the cloud."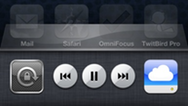 Michael Robertson (yes, the founder of MP3.com) mentioned on his blog that Apple had recently enabled its MobileMe iDisk app to play audio in the background, over both Wi-Fi and 3G connections. If you have a iPhone-compatible music file like an MP3 or an M4A (without DRM, naturally) stored on your iDisk, tapping it in the iPhone app will begin playing it back. You can even play and pause it with the controls in iOS 4's multitasking shelf.
These features aren't all that new—they actually arrived with the last MobileMe iDisk app update on July 6, and Apple plainly listed "play audio from your iDisk while using another app" as a new feature. It is also worth noting that other file-management apps can play music in the background, including Dropbox.
Some sites, such as ReadWriteWeb and Gizmodo, are reporting iDisk's media-streaming abilities as Apple flipping the switch on new "iTunes streaming" features (even though Robertson himself clearly said in his post that "this is not 'iTunes in the cloud'").
But "iTunes in the cloud"? Hardly. For one thing, you have to manually move or copy music files into your iDisk (in Macworld's brief testing, it doesn't matter where you store the files in your iDisk). When a song finishes, you have to manually open the app and select another song to play, as there is no playlist support or even continuous play functionality for multiple tracks in a single folder. The previous and next track buttons in the background playback controls don't work either; they simply end the currently playing song.
Apple also warns that documents larger than 20MB may not be viewable in the MobileMe iDisk app, which presumably includes music files and podcasts. Streaming certainly works over 3G, though quality isn't quite as good as streaming over Wi-Fi or playing locally with the iPod app.
In a nutshell, streaming media in the background with its MobileMe iDisk app is a marginally useful feature that Apple added (and mentioned) in July. But it isn't quite time to break out the credit cards and bubbly in celebration of "iTunes in the cloud" yet.