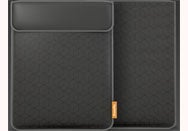 Sunrise, Flordia-based XtremeMac has announced several new cases for the iPad, starting with the Tuffwrap ($40), a form-fitting silicone snap-on that protects the iPad without hindering access to its controls and connection ports. The case also sports textured sides for extra grip power.
The Neoprene Sleeve ($40), on the other hand, looks like a big envelope and features an "integrated" pocket for cables and other accessories. It uses a Velcro strap to keep its contents secure and is XtremeMac's most lightweight offering.
Finally, the Nylon Sleeve ($50) is perfect for those who like plushness: it is made of a durable form-fitting exterior complemented by a soft interior lining for giving your iPad maximum protection.
Complementing the company's line-up of new cases is the Tuffshield, a $25 anti-glare transparent film that uses static cling adhesion for easy application and removal and protects the iPad's screen from dust and scratches.
The Tuffwrap, Tuffshield, Neoprene Sleeve and Nylon Sleeve are all available immediately for purchase through XtremeMac's Website.