I recently (finally!) replaced my aging MacBook Pro with a new 2010 model, which includes a 500GB internal hard disk. I feel like I have more breathing room on disk, but I know from experience that it's a short-lived situation. Especially with digital video, that free space will be quickly consumed.
iMovie '09 stores your projects and events (which include the raw imported footage) on your Mac's internal drive by default, but at some point you'll probably want to relocate old videos to a secondary hard drive. To make them available to iMovie later, however, you can't just copy them in the Finder. Instead, do it all within iMovie. Here's how:
1. In iMovie, make sure you can see volumes belonging to any attached hard drives. Choose View -> Group Events by Disk, or click the hard disk icon at the top right of the Event Library to display the volumes.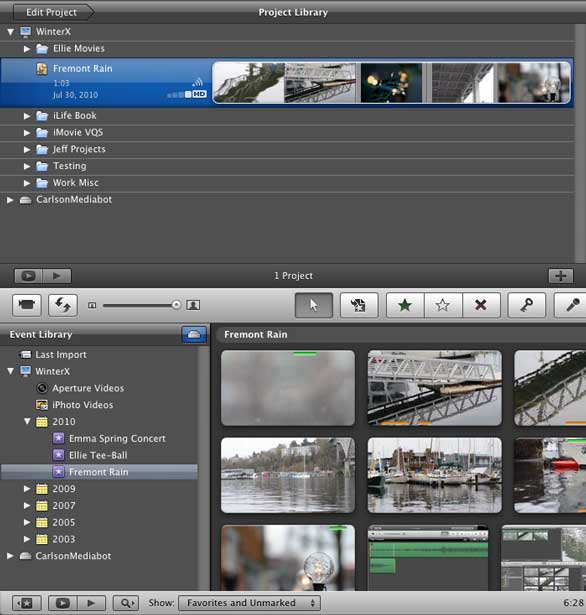 2. Drag the project to the external volume. If you want to move a project and its associated media files, click the Copy Project button in the dialog that appears; in that case, only the small project file is moved, leaving the larger video files on the internal drive. Or, choose Copy project and events to transfer everything.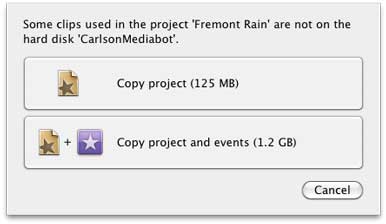 Note that dragging a project in this manner copies the files, so you'll end up with one version on the internal drive and a duplicate set on the external drive. If you'd rather move the files, which deletes the originals after copying, hold the Command key as you drag. The options in the dialog read Move instead of Copy.
Also note that the entire event is copied or moved, even footage that doesn't currently appear in the movie.
You can also copy or move individual events without affecting the projects that use their footage by dragging the event to another volume in the Event Library. The projects don't forget where the video files are located. However, if that volume goes offline, then you won't be able to edit the footage.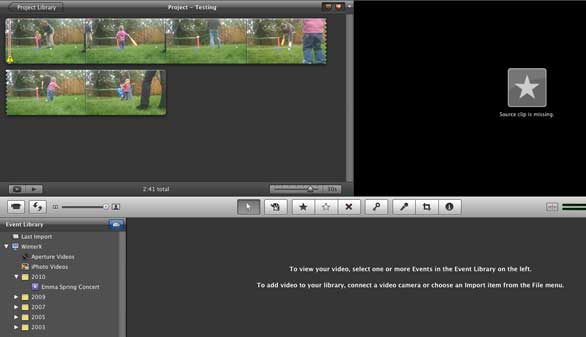 [Jeff Carlson is the author of iMovie '09 & iDVD for Mac OS X: Visual QuickStart Guide (Peachpit Press; 2009) and the managing editor of TidBits.]