The appropriately named iNapkin 2 is a simple brainstorming application for the iPad. The $3 offering from Luksor allows you to sketch out ideas and write notes on a napkin or lined paper background and e-mail them. iNapkin 2 is certainly functional, but it has a few issues.
You access the pen, text, and eraser tools through a toolbar at the bottom of the screen. When one tool is toggled on, a floating palette for controlling the tool pops up in the upper-right corner. You use the palette to adjust the tool's attributes—the color and thickness of the penstroke, say.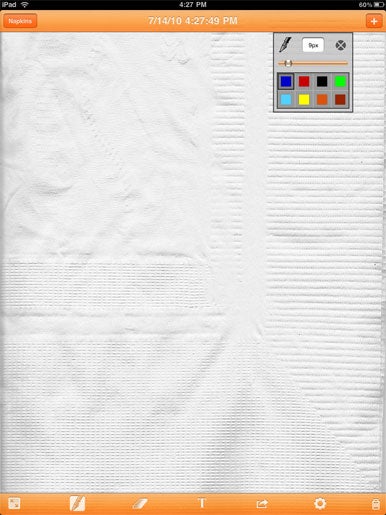 Unfortunately, the palette covers up a portion of the note, requiring you to either move it out of the way or hide it. Sure it's a relatively minor annoyance, but it's still a distraction. I would rather see a popover that opens just above the toolbar when you touch the tool's icon.
iNapkin 2's interface appears to be modeled after the look of Apple's Mail application. In landscape mode, saved notes appear in a sidebar on the right side. It's convenient, but because this sidebar is always there, you wind up with less space for editing the note you're working on.
Despite some user interface issues, iNapkin 2 works well enough for its purpose. But the app is merely functional as a tool for quickly sketching out ideas and notes, not something that stands out from other App Store offerings.
[Kyle Baxter writes and publishes the Mac weblog TightWind.]