If you're thinking about taking your Mac gaming to the next level, Logitech has announced three new gaming peripherals that could give you a competitive edge in the online playing field. The Logitech Wireless Gaming Headset G930, Wireless Gaming Mouse G700, and Gaming Keyboard G510 are aimed at gamers who want more features and better performance than standard peripherals offer.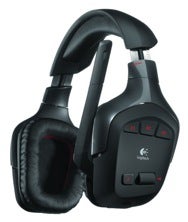 The $160 Logitech Wireless Gaming Headset G930 features 7.1 Dolby surround sound which, when playing a game that supports the technology, should improve your ability to locate opponents by sound.
The headset uses gaming-grade wireless technology designed for two-way, uncompressed audio streaming, and boasts three programmable keys that let you control music, voice morphing and chat clients. It also features a noise-canceling microphone that improves the clarity of your voice, and though the headset's battery gives you ten hours of use on a full charge, an included charging base lets you recharge while you continue to use the headset.
All of these features wouldn't amount to much if the headset didn't fit comfortably, but with a memory-foam-lined headband and plush ear pads, the G930 should provide a cozy fit as well as effective sound isolation.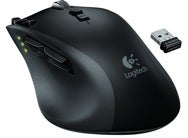 The $100 Logitech Wireless Gaming Mouse G700 is optimized specifically for Massive Multiplayer Online (MMO) games, but still offers enough precision to keep your kill count high in First Person Shooters (FPS). It features 13 precisely placed controls that can be programmed to perform single actions or complex macros with a single click, but that won't get in your way when you don't need to use them.
The mouse's full-speed wireless connection should ensure lag-free performance, and its sleek curves are designed to fit the contour of your hand, keeping you comfortable while you play. An included quick-connect charging cable can charge the mouse while you play, as well as provide data-over-cable capabilities for LAN-friendly connectivity.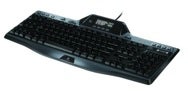 The $120 Logitech Gaming Keyboard G510 features 18 programmable gaming keys with three mode states, giving you a whopping 54 possible macro settings per game. You can pre-define macros for your favorite games or create new ones on the fly.
As if that weren't enough, the keyboard features its own LCD that displays real-time game stats and system performance data. Customizable RGB backlighting makes it easy to keep your keyboard controls visible in dark settings, and the keyboard includes 3.5mm audio and microphone jacks, so you can plug in an analog headset for clear digital communication over the keyboard's USB connection.
The G-Series products are available for order now through Logitech and will be arriving at major retailers soon.