Equinux's iSale is a feature-packed tool for eBay power sellers and professionals; now the company has released iSale Express, a streamlined version of the application for average users who don't need kitchen-sink-grade features, but still want a Mac experience when selling on eBay.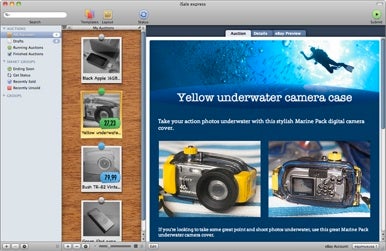 iSale Express offers the basic necessities for casual sellers, with an iTunes-like interface, a handful of templates for styling auctions, and drag-and-drop convenience for adding photos. You can enter details about your items, preview how your auctions will look before submitting them to eBay, and even perform some basic photo-editing like rotation and crop.
After you submit your auctions, you can monitor their progress and bids right within iSale.
For comparison's sake, iSale Express's big brother sports a number of additional useful features, such as more than 200 editable templates for spicing up your auctions, support for unlimited eBay accounts, online picture hosting with MobileMe and Picasa (so you don't have to pay eBay's picture fees), a research assistant for adding more details to your items, auction archiving, and boilerplate text areas (so you don't have to repeatedly enter details like introductions or shipping policies).
At $10, iSale Express is certainly priced to stand out from the original iSale, which is $40 for a single license and $50 for a family five-pack. iSale Express requires a PowerPC or Intel Mac running Mac OS X 10.5 Leopard or later.