A number of Tap Tap Revenge imitators have sprung up since the game's massive success on the iPhone, but Tapic by Zentertain is that rare game that lets you instantly load up and play your own iTunes MP3s as levels. While the idea of playing through your favorite album in a rhythm-based game might sound appealing, Tapic's lackluster execution mars this promising concept.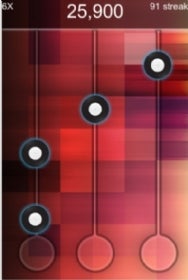 When you first run Tapic, you'll need to select songs from your iTunes library for Tapic to load, as the game doesn't include any music of its own. Once you select a song, the game takes about 15-30 seconds to analyze it and create a level based on the rhythm and dynamics of the track, after which you select a difficulty setting and start playing.
The gameplay is nearly identical to Tap Tap Revenge—circles fall from the top of the screen along three rows that you must tap in time to the music. The game does a respectable job at turning songs into levels, with the bubbles generally falling according to the beat and song dynamics, though I wish the developers had made the difficulty levels a bit higher—even on the Hard setting, I wasn't very challenged. The controls are responsive and familiar, and I didn't notice any lag when I tapped the screen.
Graphically, Tapic is a let down. In contrast to Tap Tap Revenge's dynamic, changing backgrounds and themes, Tapic provides only one beginning background that you play on for all of your songs—a bland, uninspiring mosaic that adds little to the game's appeal. This might not sound like a big deal, but you'd be surprised how much you take for granted the immersive backgrounds and graphics of games like Guitar Hero and Tap Tap Revenge—without the quality graphics we've become accustomed to, the game loses a lot of its impact.
To its credit, Tapic includes three other unlockable themes, but the requirements for unlocking them are steep—after nearly an hour of gameplay, I still hadn't met the requirements to unlock any extra themes. Tapic also lacks flashy power ups like Guitar Hero's "Star Power" or Tap Tap's "Shake for 10x", which added excitement to those games. Between the unchallenging gameplay and lack of interesting backgrounds, power-ups, or new features to unlock after short bouts of play, the game feels monotonous and bland.
Tapic runs on a promising concept, but until the developers add a decent amount of achievements and bonuses to keep the game fresh, it will remain a one trick pony.
[David Dahlquist is a frequent contributor to Macworld.]