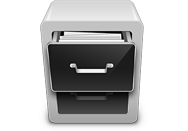 Australian company Nolobe announced Thursday the release of Interarchy 10, the newest version of its venerable FTP client.
First developed as Anarchie for the Mac OS back in 1993, the FTP client has seen numerous changes, additions, and even a new name since that initial release. Interarchy 10 adds support for a plug-in architecture, allowing developers to create and design commands to be executed directly onto the server. Currently, users can check out the Interarchy Dev Center for tutorials on how to create their own plug-ins; Nolobe hopes to be able to offer third-party plug-ins for download directly from its Website in the future.
To support these plug-ins, Nolobe has designed a new file transfer protocol for Interarchy 10 called iFTP (Interarchy File Transfer Protocol), which builds upon the SSH protocol previously used in Interarchy 9. Nolobe is claiming faster speeds (up to 80 MB/second) and flexibility for this protocol compared to previously established protocols like SFTP and FTP, and it only requires that your servers have SSH enabled.
Interarchy 10 also now supports mounting your server directly on your desktop with the Net Disks feature. The program furthermore now makes use of Quick Look and Cover Flow so that users can quickly preview their files without opening them. And for those wishing to work in the cloud, Interarchy 10 has built-in support for Google Storage and Rackspace Cloud Files in addition to Amazon S3 (previously available in Interarchy 9). In total, the program now supports fourteen protocols.
Interarchy 10 is available to try for free on its Website. Users of Interarchy 9 can buy the upgrade for $30; for new users, Interarchy 10 will cost $50. The program requires an Intel or PowerPC-based Mac running OS X 10.5 or later (though Nolobe recommends running 10.6.4 or later for optimal performance).