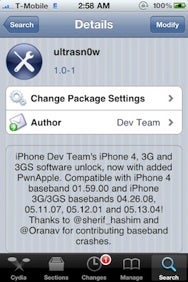 iPhone 4 users and would-be owners who have been waiting for a way to unshackle carrier-locked versions of the phone have some tapping to do. The infamous Dev Team has released a new version of ultrasn0w, its iPhone unlock utility, which has been updated for the iPhone 4.
Announced on the Dev-Team Blog, ultrasn0w is now available in Cydia, the app store for jailbroken iOS devices. To access Cydia, you must first use JailbreakMe, a new Web-based jailbreak utility for iOS devices that takes advantage of a fairly significant PDF exploit in iOS 4.
Apple has promised an update to patch this exploit, but has yet to release it or provide a release time frame. For comparison, hackers at the Black Hat security conference last summer discovered an exploit in the iPhone's SMS, and Apple patched it the next day.
Despite the Library of Congress's declaration last month that jailbreaking does not violate copyright laws and is now legal for personal use, the usual warnings over jailbreaking and unlocking an iOS device still apply. Jailbreaking and unlocking can still void your warranty or potentially brick the device, and Apple can still legally deny support of such devices.
32GB iPhone 4 (GSM, AT&T)
Price When Reviewed:
$599
16GB iPhone 4 (GSM, AT&T)
Price When Reviewed:
$485