Recently, little boxes began popping up on Web pages I visited. They showed my picture and welcomed me by name. They also included details that made it clear these sites knew I was a Facebook member. I probably shouldn't have been surprised. After all, this is nothing new—other sites have used cross-site cookies to determine what ads to display. But this time, it was enough to spur me to action. I decided to get rid of all my Web browser cookies.
What would the consequences be? Cookies are, after all, intended to make surfing easier. They give your computer a unique identifier so your actions can be tracked and your needs (say, your site login information or preferences) anticipated. (Learn more about what cookies do, and what privacy risks they can pose, by reading this Wikipedia article.) I'd already ditched Google for privacy concerns, so I figured it would be an interesting experiment to delete my cookies and see what happened.
Delete or rename them
You can delete cookies by taking a trip your browser's preferences. In Safari 5.0, go to Safari -> Preferences, click Security, click Show Cookies, and finally click Remove All. With Firefox 3.6.8, select Firefox -> Preferences and click on Privacy. Click on the Remove Individual Cookies link and then click Remove All Cookies.
I wasn't quite ready to go this far, though, in case deleting the cookies added up to a real inconvenience. I felt it would be easier to just change the name of Safari's cookie file so I could get all of my cookies back if anything went wrong. Safari keeps its cookies file in ~/Library/Cookies. Rename it to something like cookies.old.plist. If need be, you can change the name back later. Note that this file is used by Safari as well as any other program that renders Web pages with WebKit (including RSS readers, such as, NewsGator's NetNewsWire). Firefox's cookies live in ~/Library/Application Support/Firefox/Profiles/. Inside this folder, you'll find your Profile folder (it will probably have a strange name like oe886bk5.default). Inside this folder you'll see a file called cookies.sqlite. Change the name of this file.
What you lose
Once you get rid of your cookies, the first thing you'll notice is that you won't be logged into sites you visit regularly. Amazon asked me to "sign in to get personalized recommendations." A forum I visit regularly took me to a Login page. When I went to my blog's administration page, I was asked to log in as well. This shouldn't be a big hassle if you've been storing user names and passwords using, for example, Safari's AutoFill preferences. (Go to Safari -> Preferences, click AutoFill, and then select the User Names And Password option.) If you have, then Safari will enter your user names automatically. Passwords, which are stored in your keychain, will fill in as well.
In some cases, you'll lose specific display settings on Websites. For instance, you may have chosen a font size or you may have customized certain elements on a site, such as a theme or skin. You'll have to recreate those settings. Your Google search settings will be reset to the default, if you've changed them (and aren't signed in to a Google account). The same is true with any other search engine.
What you won't lose
One thing you won't notice, however, is changes due to the loss of the pernicious cookies provided by advertisers that track your activity on the Web. These cookies don't require you to log in anywhere; they just record what you do. Deleting these cookies is a good way to keep your surfing habits somewhat private, but as you surf, you'll get new cookies, and, over time, the ads you see will be, once again, somewhat influenced by your browsing history.
It didn't take long after I got rid of my cookies before my browser showed hundreds of new cookies in its list. Since many, if not most, Websites send several cookies when you visit them (a half-dozen per site is common), just loading a number of sites in my bookmarks folders added hundreds of discrete cookies to my cookies file. And in spite of having my Safari settings to only allow cookies from sites I visit, I found other cookies. For example, I didn't visit YouTube.com, but still four YouTube cookies appeared in my list, presumably sent when I visited a page with an embedded YouTube video.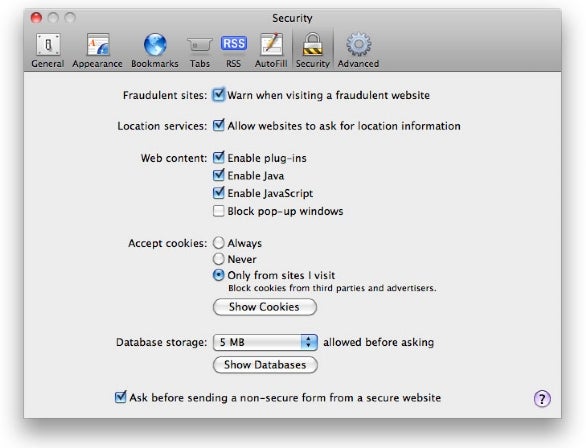 Keeping cookies under control
While you could go as far as turning off cookies in your browser, this can prevent certain Websites from working correctly. For example, you can't buy anything on Amazon.com or log into Facebook without cookies.
I'll settle for deleting my cookies regularly. A number of tools can help, including Intego's $20 Washing Machine 2, which can also delete browser caches and other dross on demand or on schedule. Titanium's Software's free Onyx can also clean cookies from a couple of dozen browsers, though you can't schedule it to run automatically. Deleting your cookies from time to time can clear out the hundreds or even thousands of them that accumulate. And in the process, it will give you a new, pristine identity when you visit Websites where you don't have to log in.
Senior contributor Kirk McElhearn writes about more than just Macs on his blog Kirkville. Kirk has written documentation for Intego.