Developer Chillingo has brought its steampunk-inspired, physics-based puzzle game, Master of Alchemy, to the iPhone. Previously available only for the iPad, the iPhone port features high-resolution graphics and enough levels to keep puzzle game fanatics busy for hours on end.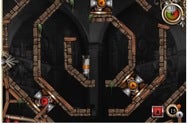 In Master of Alchemy, you use mechanisms to manipulate solid, liquid, and gaseous elements and reveal discoveries. The power of alchemy can change substances from solid, to liquid, to gas, and so on, in order to complete puzzles. You must also overcome obstacles and navigate through complex structures using a variety of tools, and six different types of characters who perform various tasks for you.
The game uses a custom-developed graphics engine with realistic particle physics and high-resolution graphics optimized for iPhone 4's Retina display. And if you're looking for bang for your buck, Master of Alchemy includes an impressive 60 levels, with each level increasing in difficulty as you progress.
Master of Alchemy cost $1 and runs on iOS 3.0 or higher. A clip of the game in action is embedded below.
Read more…