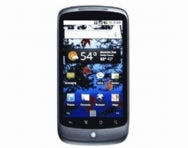 The Nexus One, the phone that was supposed to launch Google's online phone sales strategy, may not be available anymore from the search giant's online store, but Google is still selling it — to developers.
On Thursday, Google said that the Nexus One is now its Android Dev Phone. People who are registered as Android developers can buy the phone for $529.
The Android Dev Phone comes unlocked, so that buyers can insert any compatible SIM card to use it. It also has an unlocked bootloader, so users can install custom versions of Android on the phone. It is designed to allow developers to experiment with applications before launching them to the public.
Google has previously offered the G1 and the MyTouch as Dev Phones.
The Dev Phone is available through the Android Developer site to registered developers. Anyone can sign up to be a developer for $25.
Google unveiled the Nexus One to much fanfare, positioning it as the first of many phones it would sell from a new online store. However, the launch got off to a rocky start when customers had trouble figuring out whom to ask when they needed help. Google initially offered only e-mail support, promising to respond in one to two days. That wasn't fast enough to satisfy many buyers.
Around four months after it launched the online store, Google said it would close it, noting that customers appeared to prefer to see a phone in a store before buying it. By late July, it had sold its final phones online.