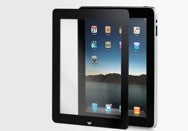 High-end accessory maker Moshi has released a new screen protector for the iPad. It's called the iVisor AG, and Moshi is billing it as the only 100 percent bubble-free, reusable, re-washable screen protector on the market.
The matte-finish iVisor not only protects your iPad from scratches, but also keeps it smudge-free. While typical screen protectors require a tedious amount of effort and precision to prevent unsightly air bubbles from popping up, Moshi's patented technology allows the iVisor AG to be installed in seconds without any air bubbles.
Furthermore, the iVisor's top layer is treated with Moshi's EZ-Glide technology, which reduces finger-glide friction on the iPad, making it easier and more comfortable to maneuver around the touch screen.
Adding to iVisor AG's appeal is its reusability. When it gets dirty or starts to lose its adhesiveness because of dust and debris build-up, just wash it in the sink, let it dry, and put it back on.
The iVisor sells for $30 and is available now through Moshi's online store.
Updated 8/6/2010, 9:14am: corrected description of the iVisor's finish.