The iPad's portability and incessant connectivity make it a popular device for reading news. Some people use news apps dedicated to one publication, such as New York Times Editor's Choice and The Wall Street Journal, while others use feed readers which can collect articles from just about any publication or blog. Reeder from Silvio Rizzi is just such a feed reader, which offers plenty of options for sharing, syncing, and, of course, reading your news.
Available in both iPad and iPhone versions, both flavors of Reeder offer very similar features. The exception: the iPad version enjoys some interface perks thanks to that device's increased screen space. (For the purposes of this review, I'll discuss both versions of Reeder in tandem, mentioning any unique iPad features when relevant.)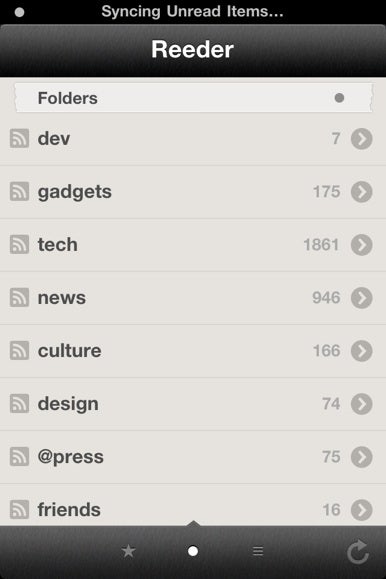 The only first step you can take with Reeder is to enter your Google Reader credentials, even if you don't use Google Reader. Reeder depends solely on Google's Web app and service for managing and syncing your feeds between devices. I'm a Google Reader user myself, but I could see how this may be a barrier for users who do not have or want a Google account. It would be nice to see Reeder let users add Websites and feeds without requiring Google Reader sync.
After you save your credentials, Reeder gets to work, syncing your feeds, folders, and all their articles. In my experience with a number of iPhone and iPad feed readers, Reeder syncs items notably faster than most of its competition, even with its default options of syncing news items that are up to one month old. This may be due partly to the fact that the app syncs article headlines and text in its first pass, and then images in a second pass. (That way, you can at least read news if you have to go offline on, say, the subway.)
One of Reeder's unique characteristics is an aesthetic that leans toward not just paper, but bound parchment. Reeder's background has a khaki color, almost as if to look like it's been around for decades, if not centuries. Headings that separate dates or feed names have torn edges, and the iPad version gets added visual polish like paper texture and a left-handed toolbar with the appearance of a book spine. The overall effect felt strange at first, especially on such modern, the-future-is-now device. But it eventually grew on me, and I find that it satisfies the last few nostalgic portions of my brain that yearn to hold paper and physically flip pages.
One particularly fun interface perk on the iPhone version is Reeder's use of the menubar for sync status. (On the iPad, sync status sits at the bottom of the left sidebar.) You can tap Reeder's custom status bar to hide it and reveal the iPhone's carrier signal, clock, and other standard icons. I haven't seen this trick in any other apps so far, and it's a smart way of dealing with an interface element on a small screen that does not need to be in the user's face.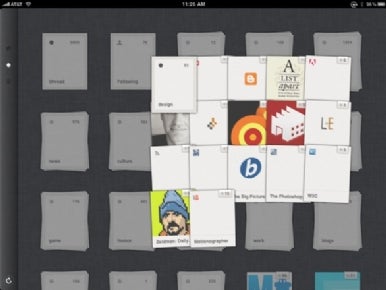 Reeder makes use of a handful of standard iOS touch gestures. You can drag up or down past the edges of an article to switch to the next one. On the iPad, you can swipe an article to the right to get back to the list of headlines, or pinch-in to skip all the way back out to the main list of feeds and folders. Also an iPad exclusive is a pinch-out gesture on a folder icon to reveal the feeds inside, just like pinching on an album in Apple's Photos app. These gestures go a long way toward bringing the natural feel of Apple's touch interface to reading news feeds. They may not be obvious to all users, but discovering each one elicited a "Hey, cool!" moment, regardless of how many times I've used them in other apps.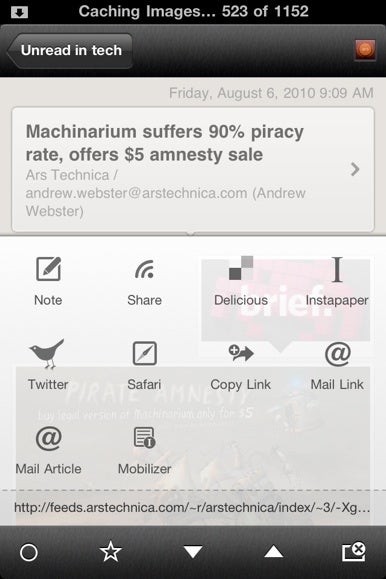 Sharing is another one of Reeder's strong points, as it supports a wide range of services and features. In addition to typical services like Facebook, Twitter, and Instapaper, Reeder also supports Delicious, Pinboard, Read It Later, and "mobilizer" services from Google and Instapaper for opening the article's full Webpage in a version optimized for mobile devices. You can mail a link to an article, or create a new message with the entire article pasted inside. So you don't drown under social sharing buttons, you can customize which ones appear in Reeder's social action menu.
Speaking of options, a wide range of features for customizing Reeder's behavior help it to fit into your routine. If you're a feed junkie and don't care about news published more than a day or week ago, you can tell Reeder to download only the last day's worth, or last week's. If you only follow a few feeds from sites that don't publish very often, turn on the "All" option to remove the publishing date from the equation. You can choose to let Reeder sync only over Wi-Fi, toggle an unread badge on the icon, and tweak plenty of other options for the way you read news and blogs.
Reeder does fall short in a few places. Besides the aforementioned symbiotic dependence on Google Reader, it also breaks from the "quick news junkie fix" use case that Google created with its Web-based, iPhone-optimized Google Reader version. When you're reading news on-the-go, you're probably not settling in for a long-haul session—you're on the bus or waiting in your doctor's lobby, and you just want to breeze through a few headlines. Google Reader on the Web downloads 15 headlines at a time, making it easy for news junkies to skim through, tap to read an important story or two, star a couple of others for later, and mark the whole set as read in order to keep one's feed reading duties and unread counts under control.
But Reeder displays a continuous list of all unread items as far back as it is set to download. You cannot mark a handful of feeds as read while getting your fix. Now, not all news readers work this way, so it's not that big of a deal, but it would be nice to see Reeder consider this news junkie use case in a future update.
Overall, Reeder is one of the best feed reading options available for the iPhone and iPad. Its speed, flexible options, and generous coats of polish make it stand out from an increasingly crowded market. It's unfortunate that Reeder is not a universal app, but even at separate purchases for iPhone and iPad, it's well worth its collective price.
[David Chartier is an associate editor for Macworld.]