Tweetie 2 for iPhone was an excellent Twitter client—may it rest in peace. It's now been replaced by Twitter for iPhone, a rechristening of the app that occurred when developer Loren Brichter joined Twitter's team.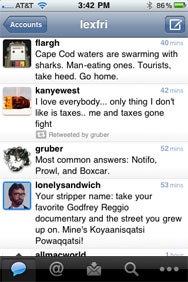 So Twitter 3.0.2 really is Tweetie 2's successor, even though the name changed. And everything that made Tweetie 2 a -mouse app the last time I reviewed it remains. The most significant changes in the latest version of the app cater to Twitter newcomers: You can now more easily use the app even if you don't yet have a Twitter account, just to browse other tweets. Once the missives of millions of people around the world have convinced you that Twitter's right for you, you can now join the service from directly within the app.
Perhaps more appealing to folks who are already Twitter devotees, the latest version of the app includes top-notch iOS 4 support. It handles fast app switching with aplomb, and also finishes posting new tweets even if you exit the app before the action completes. That's especially useful when you're tweeting images or videos that Twitter needs to upload, since you no longer need to wait for the process to finish.
In short, it's a great update to what was already a truly great Twitter client. Oh, and perhaps best of all, Twitter for iPhone now costs $3 less than Tweetie 2 did: It's free.
[Follow Lex Friedman on Twitter, or in dark parking lots if you spot him.]