Newsprint is a bug-ridden RSS reader that crashes and hangs frequently, often encounters "unknown errors," and is incapable of locating most of the feeds even of the sites it has preloaded onto the app. At its best, Newsprint would serve well as an example computer science professors can use of how not to write a program.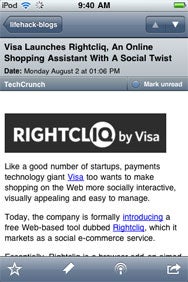 Version 1.2 from HasBang Industries is an upgrade in the sense that users can, for example, now import their Google Reader feeds and watch them not load, as well.
At best, Newsprint can be described as in pre-alpha stage: once in a while, an RSS feed loads and you can actually read a story or two. The screen indicates that you can e-mail and view Web versions of stories from within the app, but I was unable to test these capabilities before the app crashed.
During the time that I've tried to use Newsprint, it has gone from bad to bad, despite plenty of App Store reviews that point out its many and obvious flaws.
On a more positive note, though it hasn't been optimized for the iPad, Newsprint works slightly better on that device, which runs on iPhone OS 3.2.1 (rather than the current iPhone OS 4.0), loading more feeds properly before crashing.
[Jeff Merron is a freelance writer and editor living in North Carolina.]