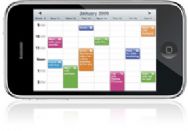 Marketcircle has updated Daylite Touch, the iPhone client for its business productivity manager for the Mac, with one major new feature that is sure to make busy users happy: Local Notifications.
Daylite Touch gives Daylite users access to their most important business information and tasks, such as monitoring project progress and inviting employees to meetings. Daylite Touch 1.5 gains Local Notifications that can display an SMS-like pop-up alert for upcoming meetings and tasks.
Unlike Push Notifications, which debuted in 2009 as part of iOS 3, Local Notifications in iOS 4 require no Wi-Fi or cellular connection in order to work. Even if your iPhone or iPod touch is in Airplane Mode on the subway, an app can display a Local Notification alerting you to something important.
Daylite Touch 1.5 also gained the typical round of updates for iOS 4 and iPhone 4, which include multitasking support and high-resolution graphics for the iPhone 4's Retina display.
Daylite Touch 1.5 is available for free now in the App Store, and requires iOS 3.1.3 and Daylite 3.11 and Daylite Server 3.11 on the Mac.