Highborn, by Jet Set Games, bills itself as "a casual, round-based strategy game that's perfect for gaming on the go, or for anyone looking for an intelligent, tactical experience without the frenetic play of a traditional RTS." Normally, I receive sentences like the aforementioned with scorn and scepticism, as strategy games with a "casual" bent usually are products stripped of substance, burdened down with cartoonish graphics and clumsy controls typical of the platform. But Highborn offers a solid— albiet not spectacular—depth of play.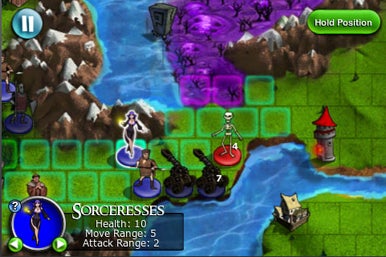 Hardened veterans of advanced nerdery will find little unfamiliar with the story and setting of Highborn. A self-conscious, yet persistently evil Lich King "Arch-Lich" named Floyd is raising ruckus about the land, marshaling an army of monstrous, yet extremely talkative mythological creatures. Opposing these forces of darkness is Archie, a somewhat sarcastic take on the prototypical Paladin. Archie is a self-possessed, histrionic do-gooder, whose farcical heroism adds to the funny. In addition to stock fantasy characters, Jet Set skillfully introduces elements of Greek mythology into the mix; as a result, portions of the dialogue read like a Clash of the Titans rifftrack. The art does a good job of presenting this lightheartedness with appropriately cartoony vibe. However, the 3D models, although the animation is smooth, look dated and blocky.
From the title screen, the action begins quickly; direction and story arrive in bits throughout the first mission (although a more detailed tutorial is available when needed). The turn-based mechanism is fairly intuitive and simply implemented but is so simple as to miss out on potential areas of experimentation and innovation.
From here, the ability/reward system helps to add a much-needed layer of complexity to what amounts to a simplistic turn-based mechanic. Still, though Highborn bills itself as a "casual" game, later levels will prove challenging enough to demand more focused play; Jet Set does an excellent job of forcing the player to understand the strengths, weaknesses, and special attributes of the many units types before he or she can advance. The latest version, 1.1 expands upon the present multiplayer functionality (in addition to some important bug fixes and gameplay tweaks), making able use of the OpenFeint social platform unique to the iOS (though in a questionably harsh move all current Facebook multiplayer games will cease to exist).
However, despite these features, playing this game for any sustained period of time invariably brings with it a slight, nagging tedium. The witty dialogue and storytelling (I appreciated the Indy reference, as well as the the chief antagonist's name being Floyd) only serve to partially alleviate what at its core is a somewhat unoriginal, yet still very playable game. The clever implementation of the turn-based strategy mechanism, the capable writing—all of these helped to deliver a solid game, but yet Highborn is still missing a great deal.
The Takeaway: In the end, Jet Set delivers a successful, if not stellar, strategy game.
[Folahan Olowoyeye is a frequent contributor to Macworld.]