You probably know that you can rent movies from the iTunes Store. But there are a number of conditions that affect what you can and can't do with rentals. Here's an overview of how you can watch them, on which devices you can view them, and how to move them from one device to another.
Apple's movie rental service is easy to use, but it offers a limited amount of flexibility. (You can thank the movie studios and the MPAA for that.) Like other movie-rental services, you have 30 days to start watching a rental from the exact day and time you rent it. Once you start watching, you can watch it for 24 hours. That means you can watch part of movie at night and finish it up the next day or, if you really like the movie, you can watch it over and over again during that 24-hour window.
This 24-hour limit can be a problem for some people, though. Imagine it's a Wednesday evening, and you're tired and fall asleep during the movie you rented. Or you have small children and don't have enough time to watch the whole non-G-rated film in one go; you'd better make sure to watch the rest on Thursday before it's too late. When this 24-hour period is up, the movie will automatically delete itself from your computer or portable device. While there's a sort of workaround that lets you continue watching a movie that you paused during the 24-hour window, if you switch to some other content in iTunes or on your Apple TV, the rental will expire. There's no official way to extend your rental-period or discount on re-renting a movie.
Apple lets you watch rentals on a Mac or PC with iTunes; on an iPhone, iPad, iPod touch, iPod classic, or iPod nano (3rd generation); on an Apple TV connected to a TV; or on a portable device connected to a TV with an Apple composite or component AV cable. Finally, you can watch HD rentals only on a computer, an Apple TV, or an iPad.
Ideally, if you plan to rent a movie from the iTunes Store, you should rent it from the device you are planning to use to watch it. If you have an Apple TV, rent the movie from it directly; if you want to watch a movie on your Mac, rent it from iTunes; if you want to watch one on your iPad, rent it from there. Bear in mind the size of the file, and how much space you have available: standard definition movies take up roughly 1GB to 2GB, HD movies 2GB to 3GB or more.
Rentals don't work like other items you purchase; you can't sync them to a portable device. To put a rental on a device like an iPod or iPad, you have to move it, which removes it from the original device after copying. This transfer has something to do with DRM voodoo to make sure that you don't rent a movie and put it on different devices, where you might be able to get around the 24-hour viewing window, or allow two people to watch it on different devices. You must also be connected to the Internet to move a movie, and iTunes sends authorization information about your device to its server so you can't play the movie back on two devices.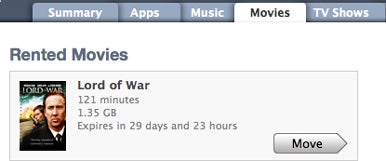 To transfer a rental, connect your portable device to your Mac, then in iTunes, click on the Movies tab. You'll see your rental, and a Move button lets you transfer the file to your device. Click this button, then click Apply to start the transfer. When it's completed, you'll be able to watch the movie on the device.
You can't, however, transfer a movie rented on an Apple TV or iPad to any other device, and you can't transfer a rental from one computer to another. If you were to try—just take the movie file and put it on another computer into your iTunes library—you'd see an alert, when trying to play the movie, telling you that it is authorized to play on another computer or device.
You can, however, transfer a rental from one computer to an iPod, then from that iPod to another computer. Move it to the iPod, then disconnect the iPod and connect it to another Mac while holding down the Command and Option keys (to make sure that iTunes on the second computer doesn't sync its library to the device). Click the Movies tab, as above, and move the movie over to the second computer. (Keep your eyes on iTunes; after it moves the movie, it may try to sync other content to the iPod, so be ready to click the X icon in iTunes at the top of the window to stop the sync.)
Renting movies from the iTunes Store can be pretty simple if you don't want to do anything special, though you'll have to jump through some hoops if you want to move rented movies. If you have an Apple portable device, or an Apple TV, it's an easy way to find a flick to watch while you munch on some popcorn.
[Senior contributor Kirk McElhearn writes about more than just Macs on his blog Kirkville.]
Apple iPad Tablet Computer
Apple iPad Tablet Computer
iPad (2010)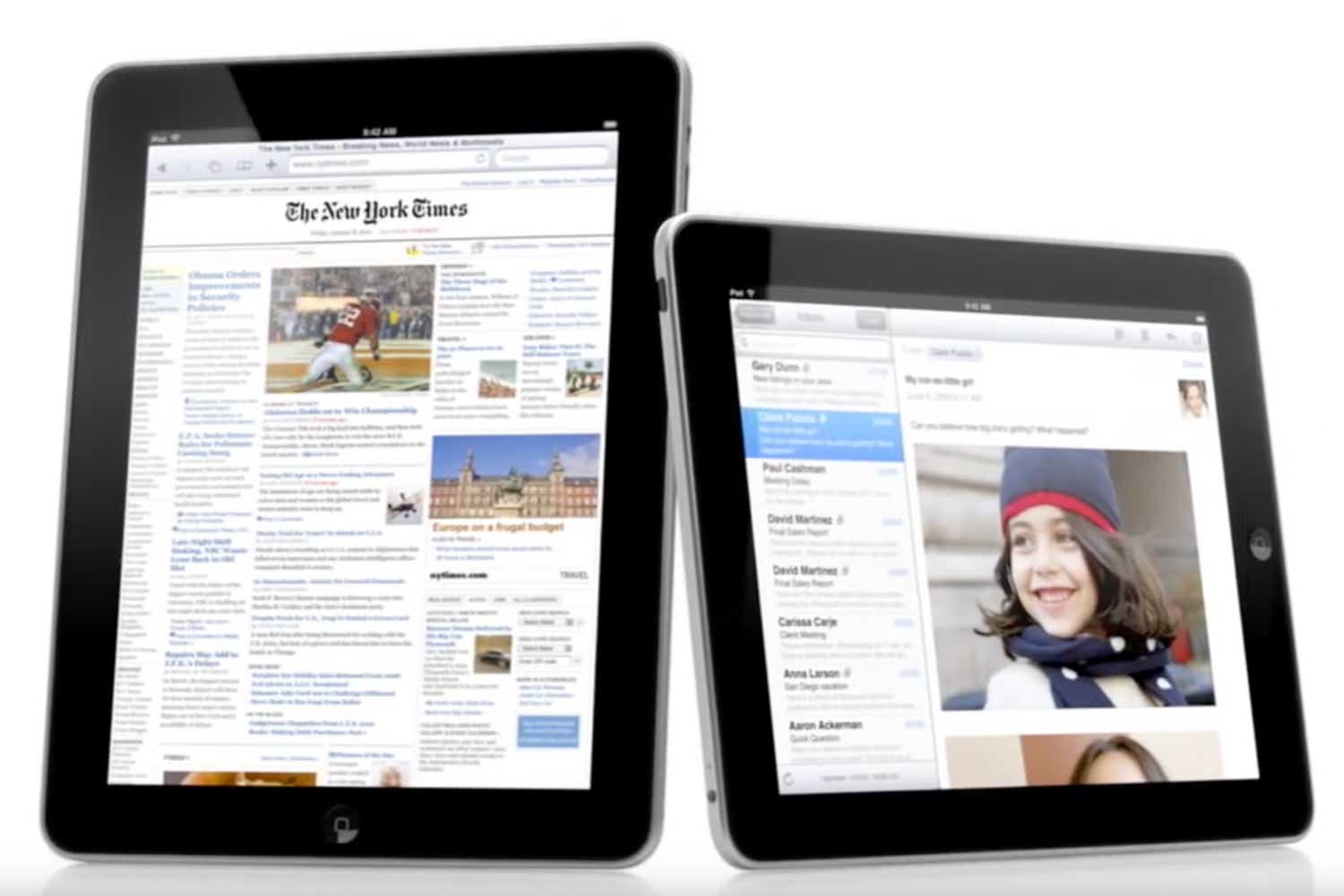 Read our full
iPad (2010) review
16GB iPhone 4 (GSM, AT&T)
32GB iPhone 4 (GSM, AT&T)
64GB iPod touch (3G, late 2009)