Apple quietly launched a couple of key App Store improvements to close out the week—with one change aimed specifically at iPad owners and the other for anyone with an iOS device and a frugal disposition. Both changes are certainly welcome ones, even if the latter feels like a half-hearted attempt by Apple to satiate customers and developers who have been asking for a true demo system since the store opened in 2008.
First, let's cover the actual changes Apple made. For iPad owners, Apple turned on Genius Recommendations in the App Store app that comes built into your iPad. No OS update is required, but if you launch that app on your iPad, you should see a new Genius button in the bottom toolbar. As with the similar feature for the iPhone and iPod touch versions of the store, you can opt-in to turn on Genius (which requires your iTunes Store password) if Macworld hasn't already recommended enough apps for you to empty your wallet with.
Apple also added a " Try Before You Buy" section to the online App Store, found on the " Free On the App Store" page. While the name suggests that Apple may have finally answered the demand for demos, the actual nature of this section is far more rudimentary. Try Before You Buy simply collects the free editions of apps that have a paid version, whose names are typically suffixed with "lite" or "free." As of this writing, 98 apps are listed under Try Before You Buy, and as par for the App Store course, the selection slants heavily toward games.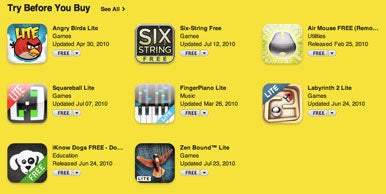 You can interpret the introduction of Try Before You Buy one of two ways, depending on whether your glass is half empty or half full. If your glass could use a top-off, this new section is probably a clear sign that Apple has no intention of introducing a true demo system anytime soon, or even competing with Google's Android Policy of a 24-hour return period from time of purchase.
Of course, Google's refund policy is not without its detractors. Last September, a game developer released a report on Android sales, noting that some developers don't think it's fair that customers can buy a $3 app while laid over at an airport, then return it once they get home.
Since the App Store's debut, developers and customers have been clamoring about a demo period for trying out apps, just like the vast majority of Mac apps have offered for ages. This would eliminate developers' need to separately create and maintain "lite" editions of apps. Customer service load from answering "I need a refund" and "why don't you have a free demo version" tickets would also diminish and give the team more time to create new features and apps. Perhaps prices could rise out of the 99-cent gutter too, since free demos would mean that customers no longer have to worry about wasting their hard-earned cash on a poor experience.
If your glass is half full, though, Apple's new Try Before You Buy section could be read as a precursor to an official demo mechanism for the App Store. To be sure, Apple doesn't make knee-jerk changes to the App Store. It took six months after the store's debut to add top app lists to all categories, and a year and a half to add a Top Grossing category as a counterweight for the race to the $1-or-less bottom.
But Apple is surely paying attention to Android's growing sales, which are fueled not just by more choices in form factors and carriers than the iPhone, but flexibility to download and try apps from more sources than Google's marketplace. While the company is unlikely to open up the iPhone anytime soon, a true demo system could remove a number of figurative monkeys from the backs of both developers and customers, and make the App Store look more inviting to current and future customers who might otherwise have considered Android more thoroughly.