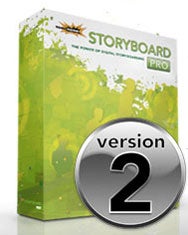 Toon Boom Animation has announced the release of Storyboard Pro 2, an OS X application designed to assist filmmakers plan, draw, and manage storyboards for video projects of all sizes.
Storyboard Pro 2, whose predecessor won an Engineering Emmy in 2005, includes a number of features aimed at complex storyboarding operations, such as smart vector-based sketching, the ability to dynamically reorganize panels and scenes without losing their sequencing, and built-in animatics management, including support for attaching a soundtrack to the resulting output.
The app supports a wide range of input and output formats, and can be fully integrated with the Final Draft screenwriting software. In addition, it can export to PSD, PDF and Final Cut Pro.
Storyboard Pro 2 requires OS X 10.5 and is compatible with OS X 10.6. The full software costs $900 (although it is currently on sale for $800), while an upgrade from a previous version will set you back $450. The company also gives customers the option of renting the application for the price of $300 per year.