Painting the inside of your house can often be a tedious process of trial-and-error, since colors that look great on a piece of paper, might not translate too well to your bedroom wall. PaintingWalls lets you use your iPhone to visualize how your walls will look when painted different colors, and it has just received a slew of improvements with its version 2 update.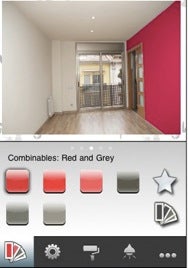 PaintingWalls uses pictures that you've taken of a room you'd like to paint, and lets you alter the color of the walls with a number of tools. You can choose to color the walls manually with a standard brush or line tool, or you can use a polygonal tool to give the app information about the edges and angles of the walls so the program can automatically color them with a fill tool.
The app comes with various color catalogs, and you can add the ones you like to a Favorites folder. Trying out different colors is quick and easy, and once you've found a color that tickles your fancy, you can share your modified photos through e-mail, Facebook, or Twitter.
New in version 2.0 is a brush that lets you paint with your finger, a zoom-and-pan function for more detailed paint jobs, an auto-save feature that saves your work before you close the app, and a step-by-step undo and redo function.
PaintingWalls 2.0 requires iOS 3.0 and is available as a free lite app, and as a $2 Pro app. Here's a video of the app in action.