Make no mistake. This is "the official" game of Risk. There is a crowded field of Risk imitators, but at long last, Electronic Arts has delivered the only game that can carry the name Risk.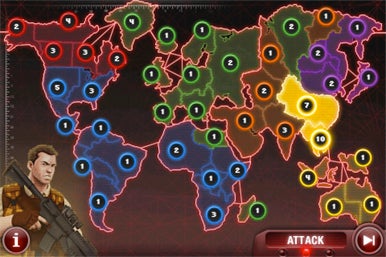 Risk for iPhone, like the original strategy board game, pits players and their armies against each other in a struggle to conquer all of the territories on a political map of the world. To start the game, players (up to four humans via wifi, six humans via pass and play, or or up to five AI) take turns populating the world with their armies. In turn each player attempts to capture adjacent territories from their opponents. Die rolls determine the outcome of the battles between armies. The winner is the one player who conquers the entire map.
The game is faithful to the original board game's rules, while beautiful animations and ambient sounds bring the game to life. That said, players seeking quick battles against AI opponents might get annoyed by the abundance of animations and interrupting banners marking the different stages of battle. You can tap them to dismiss them, but it would be nice to have the option to disable them altogether. Unlike many other popular Risk variants available, the real Risk, like the original board game, is limited to a single map.
Risk for iPhone should satisfy most fans of the original board game. However, those looking for a variety of maps and rule customization should check out others such as Lux DLX 2, Strategery, or Dominion.
Risk is compatible with any iPhone, iPod touch, or iPad running the iPhone OS 3.0 or later.