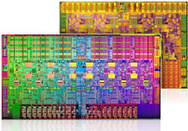 Those customers waiting to order one of Apple's recently revamped Mac Pros now have the full range of options at their disposal. On Monday, Apple added the 12-core model of the pro desktop to its online store as a third base configuration.
That base model sports two 2.66GHz 6-Core Intel Xeon processors, 6GB of RAM in six 1GB DIMMs, a 1TB hard drive, an 18x double-layer SuperDrive, and an ATI Radeon HD 5770 with 1GB of GDDR5 memory. That's in addition to the Mac Pro's usual niceties, such as 802.11 a/b/g/n wireless networking, Gigabit Ethernet, Bluetooth 2.1 + EDR, and more.
The 12-core configuration of the Mac Pro starts at $4999; customers can also upgrade to a faster pair of 2.93GHz 6-Core processors as a customize-to-order option, for an additional $1200. All three base configurations of the desktops are currently shipping within 7-10 business days; the 12-core option is available exclusively on Apple's online store.