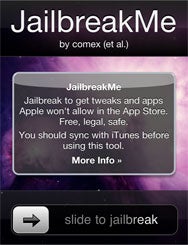 Those harrowing sounds you hear are the anguished cries of despair coming from Steve Jobs's office in Cupertino, California, following reports that some intrepid iOS hacker has figured out a way to get Adobe Flash working on the iPhone—sort of.
Developer Comex, the same singularly-named individual who created that Web-based jailbreaking site earlier this month, has unleashed "Frash" for the iPhone, iPad, and iPod touch. If you've jailbroken any of the compatible devices—which include the iPhone 4, the iPhone 3GS running iOS 4, the third-generation iPod touch, and the iPad—you can now get Flash working inside of Mobile Safari, if you dare.
Gadgets DNA provides step-by-step instructions; you'll add a custom repository into Cydia, install Frash, and then restart your iPhone.
The iPhone has never offered support for Flash, which has sparked a long-running controversy not just between Adobe and Apple, but even among smartphone users. Earlier this year, Apple CEO Steve Jobs penned some public thoughts on Flash, explaining that Apple kept it off iOS devices for a variety of reasons—among them its vulnerability to exploits, its general incompatibility with touchscreens, and its deleterious effect on battery life.
Adobe, for its part, has been stating its intention to ship a mobile version of Flash for Google's Android smartphone platform for several months, but a final version of the software is still not available to users of all Android devices.
Important to note, however, is the sad fact that Frash—which is still very much in beta at version 0.02—doesn't work with anything but the most basic Flash animations. Which is to say, pretty much the only Flash you'll gain newfound access to is in the form of Web advertisements.
Remember, jailbreaking is legal now. So if you lack fear, or perhaps taste, Flash is just a few taps away.
Update: Added clarification that mobile Flash has been rolled out to some but not all Android users. —DM