Taking text notes or recording the audio of a lecture or meeting is old news. Pear Note from Useful Fruit Software unites both tasks in a single document that pairs the audio and text, and a major 2.0 upgrade to the previously reviewed version brings new sharing and playback features, topped off with a redesigned interface.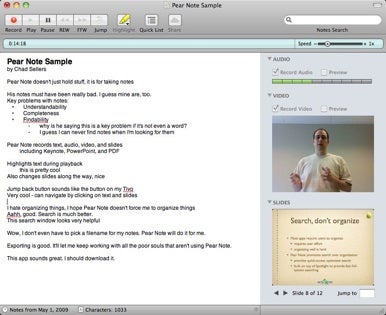 Pear Note lets you type notes while recording the audio or video of events like lectures, meetings, or that weird—yet punctual—guy in the park. You can then play back both the media and text notes to review exactly what you typed during any portion of the recording.
Pear Note 2.0 has gained a sharing feature that lets you publish an interactive note to the Web, allowing users to play back the audio, click around in the text notes to leap ahead in the presentation, and more. You can check out a demonstration of this new feature on Useful Fruit's Website.
The new version also has better playback controls that let you increase a note's speed so you can breeze through a review, or decrease speed to make sure you don't miss a beat.
In addition, this new version of Pear Note has a redesigned interface with an eye to "increasing discoverability" in the app and making the timeline easier to use.
Pear Note also lets you use Spotlight to search notes, import and view slides from PowerPoint, Keynote, and PDF files, and use Quick Look to preview Pear Note documents.
Pear Note 2.0 is available now for $40 and requires an Intel or PowerPC Mac running Mac OS X 10.5 Leopard or later.