It's difficult to look at the Washington Post's new $2 iPhone app without comparing it to the New York Times' free and popular offering.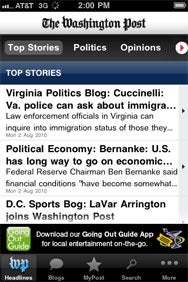 The Wash Post app gets the worst of the comparison. Unlike the Times, there are few thumbnail photos with section-front story summaries, making the articles less enticing. That's also a problem for the opinions section, where the lack of columnist photos can make it difficult to find the latest offerings from influential writers like George Will or Eugene Robinson.
There's also a flexibility problem. The Times app lets you quickly arrange your bottom-of-the-page menu according to your preferred news categories. That would be helpful on the Post app—particularly since its main "Top Stories" page can focus on D.C.-area issues, like Virginia politics and the Washington Redskins, that have little appeal for a national audience. But the Post app can't be as easily modified to give priority to important categories, such as politics or opinions.
Finally, there's the price. Is the Washington Post app worth the $2-per-year price tag? On its own, no. The paper's mobile site—accessible through iPhone's Safari browser—is more attractive and the stories are better labeled. Unless you want the Post available for offline reading, you should save your money.
[Joel Mathis is a freelance journalist and political columnist for Scripps Howard News Service. He lives in Philadelphia.]