Computech IT Services has updated BusinessMan Software, its comprehensive, modular enterprise resource planning (ERP) system with customer relationship management (CRM) abilities. Version 2 of the business-management application brings along a number of new and enhanced features for managing inventory and resources.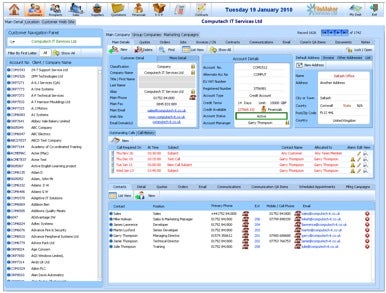 BusinessMan offers a user-friendly, menu-driven interface aimed at providing easy access to its vast array of features. Those features include quotations and invoicing modules, suppliers and stock modules, a fully integrated e-mail client, and a resource scheduler. Users can generate unlimited jobs or work orders from sales orders and schedule them for time management; time sheets, purchase orders, and other costs are recorded against the job and the customer order to get accurate costs for each sale. The software also includes comprehensive security and auditing features that make all modifications and user actions fully traceable.
New in version 2 of BusinessMan is a graphical drag-and-drop category-based stock inventory and products system that includes customer and product discount groups. Estimates and orders can be built by dragging and dropping inventory items, helping ensure that all the right elements are chosen.
Businessman has also received enhanced resource scheduling with custom grouping for all resource scheduling or planning activities. New financial and sales Dashboards allow for a quick look at outstanding deliveries, quotations, sales to date, sales snapshot figures, purchase order status, and goods awaiting dispatch. Sales and purchase ledgers have also been added to allow integration into popular accounting systems like Sage, or QuickBooks.
BusinessMan Enterprise is available for $794 for a single-user license. The program runs on either Intel-based Macs using OS X 10.6 or PowerPC systems running OS X 10.5.7 or higher.