One of the long-time limitations of Apple's iOS devices has been their inability to deal with media files in formats beyond those few that Apple prescribes. But a new app, NXP Software's CineXPlayer, now lets iPad users play video files encoded in the popular Xvid format.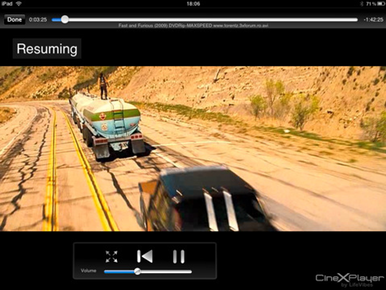 Xvid files are often distributed in AVI containers; on the Mac, additional codec software such as Perian is usually required to play them back.
CineXPlayer doesn't need any such fiddling, however: all you have to do is load your movie files onto the iPad using iTunes's built-in File Sharing feature. There's no need to convert the files to MP4 format, and there's even an advantage over play-anything streaming apps such as Air Video: having a local copy means that you can even watch the videos when you don't have a network connection.
CineXPlayer's user interface is pretty spartan: by default, the app shows you a list of the video files you've transferred—tap any of them to begin playback. The controls are a little less elegant than the iPad's own Videos app, but you can play, pause, adjust the volume, switch to fullscreen mode, and scrub through a video with ease. You can also delete videos from inside the app just by swiping over them, as you would a message in Mail.
As CineXPlayer's developer admits, not all Xvid files play back equally right now: MKV containers or videos with AC3 sound are specifically called out, but problems may exist with other files as well. Two out of three movies I loaded onto the iPad would not play at all, but at least CineXPlayer gave me an option to e-mail the developer with information about the video. NXP says it will improve support for in future versions.
CineXPlayer is free and requires an iPad running iOS 3.2 or later.