One of the biggest usability hurdles for iOS chat apps is staying connected when switching away from the program. Before iOS 4, some instant-messaging apps solved this challenge by using Push Notifications, but most users probably wouldn't want to receive a notification for every single message in a community chat room. Linkinus for iPhone, a new app from Conceited Software, solves this problem for IRC users by turning to iOS 4's multitasking features.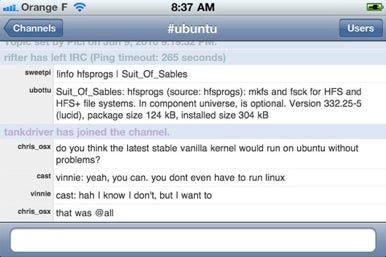 Thanks to Apple's latest mobile OS, Linkinus for iPhone can stay connected for up to ten minutes while you switch to other apps and take care of your business. You will also receive a warning once you near the end of that ten-minute limit, so you can switch back to avoid being disconnected. To be sure, Linkinus is not the first client to bring back background IRC connections to the iPhone. One other app, LimeChat, offers the feature as well.
Linkinus for iPhone and iPod touch also supports "highlights" to notify you when your nickname has been mentioned, displaying separate colors for each user in a room, and an Identities feature that lets you create and easily swap templates of nicknames, real names, and password credentials across the different networks and channels you frequent. It also supports both valid and self-signed SSL certificates so you to chat securely where available, and a wealth of IRC-specific chat commands and features. A Network Selector to make it easier to add new networks and channels when you're first getting set up; the app supports an unlimited amount of both.
Monday's release of Linkinus for iPhone brings the program to all of Apple's devices: the IRC client has already been available for Mac and iPad.
Linkinus for iPhone is available now for $3 in the App Store, and it requires iOS 3.0 or later.