Flipboard is a "personalized social magazine" app for the iPad that aggregates nine of your favorite online media sources, grabs content from links posted on those sites or by your friends on Twitter and Facebook (including photos and video), and then presents that content to you in a beautiful, easy-to-read, magazine-like format. After almost two weeks of using Flipboard's free app on a daily basis, I believe that Flipboard creates a Web media experience that is far greater than the sum of its parts.
The way Flipboard works is simple. The first time you open the app, you'll see nine placeholders that you can use to create personalized "sections" for your Flipboard magazine. While a few of these sections already contain content so you can see how Flipboard works, you have the option to add, remove, or rearrange sections, choosing from more than 60 sources. You can also add your Twitter and Facebook accounts and view those news feeds using Flipboard, or you can add individual feeds for your favorite Twitterers.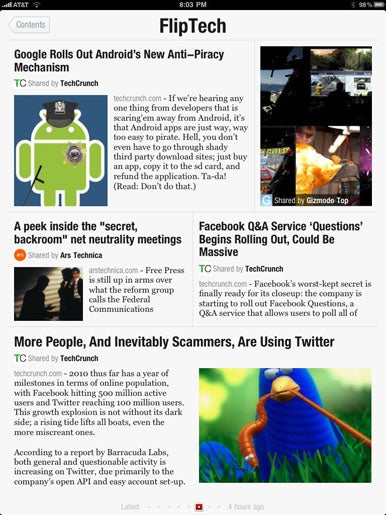 Once added, each section displays a photo pulled from a linked article, a portion of the article's text, and a byline for the author or source of the article you're viewing. Tapping a photo opens that section of your magazine and you can then flip through pages of every recent post.
While this may sound like standard RSS feed reader fare, Flipboard is unique among any of the feed readers I've used. Instead of simply collecting and displaying a list of recent posts, Flipboard grabs the content that each post links to, letting you view it all like a magazine article. So, if a friend on Facebook posts a bunch of recent vacation photos, Flipboard displays them all. Likewise, if someone you follow on Twitter posts a link to a video or article on the Web, you can view that video from within Flipboard (except, of course, if it's Flash-based) and read several paragraphs from the linked article. If you like what you're reading, a Read On The Web button opens the entire linked article within Flipboard. The overall experience is much more seamless and enjoyable than your typical feed reader, dedicated Twitter app, or even Facebook itself. As advertised, Flipboard has the feel of a personalized media magazine.
Flipboard isn't perfect, a fact in ample evidence if you look at Flipboard's ratings at the App Store, where opinion seems wildly divided between people who love the app and those who loathe it. The problem, I'm guessing, is that Flipboard's servers were so overwhelmed by the number of requests the company received to add users' Facebook and Twitter accounts that it had to create a waiting list for adding accounts. I experienced this first-hand, as I had to wait about five days to get through the waiting list. While it would have been nice to enjoy the benefits of Facebook and Twitter using Flipboard, the wait in no way detracted from my overall Flipboard experience. In short, pay no attention to the App Store naysayers. Like your momma said, patience is a virtue.
My only real complaint about Flipboard involves the nine section limitation. With more than 60 section options to choose from, I kept on wanting to add more.
Flipboard is a fantastic iPad app that makes everything you read on the Web better than it is by itself. I can't recommend it highly enough.
[Jeffery Battersby is an IT Consultant, (very) smalltime actor, and regular contributor to Macworld. He writes about Macs and more at his blog.]
Note: When you purchase something after clicking links in our articles, we may earn a small commission. Read our affiliate link policy for more details.